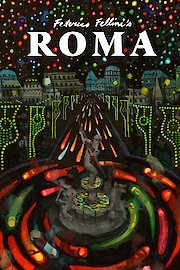 Watch Roma
"The fall of the Roman Empire 1931-1972."
R
1972
2 hr 8 min
Roma is a 1972 Italian drama film directed by Federico Fellini. The film is set in Rome during the 1930s and 1940s and follows the life of a young woman named Clelia who has just moved to the city. She is looking for work and ends up staying at a hotel where she meets a variety of characters who are all struggling in their own way. The film is shot in black and white and features stunning cinematography throughout. The visuals are accompanied by a beautiful score composed by Nino Rota, who also worked on many of Fellini's other films.
Britta Barnes stars as Clelia, the central character in the film. Barnes gives a fantastic performance, conveying Clelia's feelings of loneliness and her struggle to find her place in the city. Peter Gonzales Falcon plays Davide, a young man who becomes infatuated with Clelia. Falcon's performance is subdued and nuanced, perfectly capturing the character's conflicting emotions.
Fiona Florence plays the role of Fanny, an actress who is struggling to find work in the film industry. Florence gives a powerful performance, bringing depth and complexity to her character. Other notable performances include Pia De Doses as Elena, a woman who is trapped in a loveless marriage, and Mario Pisu as Carlo, the hotel's owner.
One of the film's strengths is its ability to capture the essence of Rome during this time period. The city itself becomes almost a character in the film, with Fellini using the locations to great effect. The film is a love letter to Rome, showcasing its beauty and vibrancy, but also its darker, seedier side.
Another strength of the film is its exploration of the themes of loneliness and connection. The characters in the film are all searching for something, whether it be love, success, or simply a sense of belonging. Fellini explores these themes with sensitivity and nuance, showcasing the complexity of human emotions and relationships.
Overall, Roma is a beautifully crafted film that showcases Fellini's mastery of his craft. The film's stunning visuals, powerful performances, and exploration of complex themes make it a must-see for fans of Italian cinema.