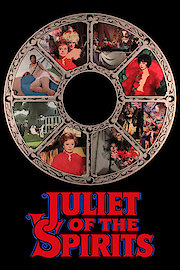 Watch Juliet of the Spirits
"The inhibitions... the desires... the obsessions... of a jealous woman held prisoner by her own dreams"
NR
1965
2 hr 17 min
83
Juliet of the Spirits is a 1965 Italian film directed by Federico Fellini. The movie follows the character of Juliet, played by Giulietta Masina, a housewife who starts to question the reality of her life and her marriage. The film opens with a dream sequence, which sets the tone for the rest of the movie. We see Juliet lying in bed, surrounded by strange and surreal images, including a floating head, a mermaid, and a snake. This dream sequence establishes the dreamlike world in which Juliet of the Spirits takes place. As the movie progresses, we see Juliet becoming increasingly disillusioned with her life. She feels disconnected from her husband (played by Mario Pisu), who is having an affair, and from her friends, who are superficial and shallow. She begins to question the meaning of life and her place in the world. To help her deal with her confusion, Juliet turns to spiritualism and starts to see a therapist. Her therapist encourages her to embrace her fears and desires and to explore the world of her subconscious mind. We see Juliet attending séances, where she connects with the spirits of her ancestors, who offer her guidance and advice. Throughout the movie, Juliet's journey is punctuated by vivid and surreal imagery, which is both beautiful and unsettling. Fellini's use of color is particularly striking, with bright and bold hues coexisting alongside more muted tones. This visual style creates a dreamlike atmosphere that perfectly captures Juliet's state of mind. One of the most striking aspects of Juliet of the Spirits is the performance of Giulietta Masina. Masina, who was Fellini's wife, delivers a stunning and nuanced performance as Juliet. She perfectly captures the character's vulnerability, confusion, and determination. Another standout performance comes from Sandra Milo, who plays Suzy, Juliet's friend and confidante. Milo brings a sense of warmth and humor to her role, and her chemistry with Masina is palpable. Overall, Juliet of the Spirits is a visually stunning and thought-provoking film that explores themes of spirituality, identity, and the complexity of human relationships. It is a must-see for fans of Fellini's work and anyone who appreciates artful and challenging cinema.