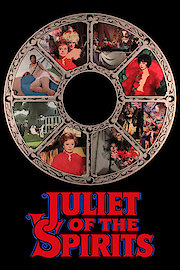 Watch Juliet of the Spirits
"The inhibitions... the desires... the obsessions... of a jealous woman held prisoner by her own dreams"
NR
1965
2 hr 17 min
83
Giulietta is a middle aged woman with a large number of problems, which include her husbands cheating and her own boredom with the life she is leading. As she begins to come to terms with the fact her husband is cheating on her with multiple women Giulietta uses the lifestyle of her younger, attractive neighbor as the basis for her own fantasies and visions. Giulietta decides the time has come to make some changes and decisions about how she will spend the rest of her life.