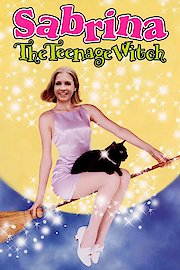 Watch Sabrina the Teenage Witch
"Do homework, buy prom dress, learn how to fly."
PG
1996
1 hr 31 min
The 1996 film Sabrina the Teenage Witch is a feature length adaptation of the television series bearing the same name. The film follows Melissa Joan Hart as the titular character, Sabrina, as she is sent to live with her slightly wacky aunts in the city of Riverdale. Upon turning 16, Sabrina finds out that she is actually a witch. The rest of the film is centered on Sabrina as she goes through regular high school life with this sudden magical power at her disposal with the primary conflict centering around Sabrina's crush on Seth, played by Ryan Reynolds. Sabrina must try to win his affection without resorting to using a love potion which, she is told, could end up quite poorly. The film was released in 1996 and is part of a larger franchise. The film was well received by fans of the franchise and helped launch the career of Hart.