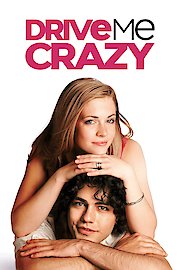 Watch Drive Me Crazy
"The last guy she wants is the only one she needs."
PG-13
1999
1 hr 31 min
42
Drive Me Crazy, a teenage romantic comedy from 1999, stars Melissa Joan Hart and Adrian Grenier in the lead roles. The movie revolves around the high school students, Nicole and Chase, who are neighbors and former childhood friends. Nicole is the popular cheerleader of the school, while Chase is the rebellious outsider, a classic case of opposites attract.
Their lives intersect when both of them are dumped by their respective dates just before the school dance. In an attempt to make their ex-partners jealous, they decide to go to the dance together as friends but soon realize their true feelings for each other.
The plot thickens as Nicole's former best friend, who has just returned to town, begins to compete with her for Chase's attention, creating a love triangle that everyone can see but Nicole and Chase. As they navigate their way through the confusing maze of teenage emotions, secrets are revealed, friendships are tested, and love ultimately triumphs.
The movie also delves into themes of self-discovery and the importance of staying true to oneself. Nicole initially cares deeply about her social status, but as she spends more time with Chase, she begins to question her priorities and what she truly wants in life. Similarly, Chase is struggling with his identity and his relationship with his father. Their experiences show how important it is to be true to oneself and follow one's heart, rather than trying to conform to societal norms.
The chemistry between Melissa Joan Hart and Adrian Grenier is palpable, and their performances make their characters relatable and endearing. Stephen Collins plays Nicole's father, a conservative and strict man who is overprotective of his daughter. He provides comic relief, and his character serves as a foil to the youthful exuberance of the teenage protagonists.
The soundtrack of the movie is another highlight, featuring popular songs from the late 90s, including hit single "Drive Me Crazy" by Britney Spears, which was also the title track of the movie.
Ultimately, Drive Me Crazy is a lighthearted rom-com that will take you back to the 90s and remind you of the innocence and angst of teenage love. With its well-crafted plot and charming performances, the movie is a must-watch for anyone who loves a good rom-com.
Drive Me Crazy is a 1999 romance movie with a runtime of 1 hour and 31 minutes. It has received mostly poor reviews from critics and viewers, who have given it an IMDb score of 5.8 and a MetaScore of 42.