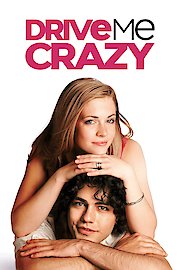 Watch Drive Me Crazy
"The last guy she wants is the only one she needs."
PG-13
1999
1 hr 31 min
42
Drive Me Crazy is a romantic comedy film for teens directed by John Schultz and produced by Amy Robinson. The film was written by Todd Strasser and Rob Thomas and distributed by 20th Century Fox. The films stars teenagers and next-door neighbors Nicole Maris, played by Melissa Joan Hart, and Chase Hammond, played by Adrian Grenier. Both teens live with single parents but the two are very different people. Nicole is a stylish, popular girl who enjoys attending various school functions, while Chase has no interest in fashion and is involved with protests. Nicole has a crush on the school's best basketball player, but shortly before their first date he meets a school cheerleader and goes out with her instead. At the same time, Chase's girlfriend leaves him to pursue a relationship with someone else. Now that they are both single, Nicole and Chase team up and hatch a plan to win back their respective love interests. The two go out on a series of dates together in the hopes of causing their former romantic partners to grow jealous. Their plan ultimately succeeds, and each ends up with the partner they desired. However, as Nicole and Chase continue to spend time together as they plan an event, they realize that they were looking for each other all along, and begin a true romantic relationship. At the end of the event, Nicole and Chase return home to discover that their parents have entered into a relationship of their own and plan to live together, making the two of them step-siblings. But Nicole and Chase decide that even if that happens, they will continue to pursue their relationship. Drive Me Crazy stars Stephen Collins, Adrian Grenier and Melissa Joan Hart. The film was released in October 1999 and runs for 91 minutes.