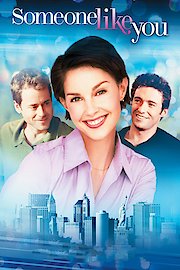 Watch Someone Like You
"The story about the one that got away and the one she never saw coming."
PG-13
2001
1 hr 37 min
32
Someone Like You is a romantic comedy movie from 2001 that revolves around love, heartbreak, and healing. Ashley Judd plays the lead role of Jane Goodale, a talent booker at a popular talk show. Greg Kinnear portrays the character of Ray Brown, the show's charming executive producer, and Jane's boss. Hugh Jackman takes on the role of Eddie Alden, a womanizing yet dashing womanizer with whom Jane develops a close friendship.
The film starts with Jane narrating her theory that men are like cows – they only seek out the "perfect" woman in their lives. When they do find her, they remain loyal to her, just like a bull who sticks with his cow. However, if for any reason he loses her, he goes back to grazing, looking for another perfect cow. Jane's theory stems from her recent heartbreak with her ex-boyfriend, who left her for another woman.
As a result, Jane starts dating Eddie, who is the opposite of her ex-boyfriend, in an attempt to heal her broken heart. While the relationship between Jane and Eddie begins platonically, they eventually develop feelings for each other. However, before they can see where this new relationship leads, Eddie suddenly breaks Jane's heart, leaving her devastated and confused.
In her heartbreak, Jane comes up with the idea for a new segment for the talk show. She proposes that the show's male viewers give their opinions on why their past relationships didn't work out. The idea is successful and brings in high ratings for the show. As Jane works on the new segment, she finds herself connecting with Ray Brown, her boss, who is also grieving the loss of his wife.
While the two initially clash over their opinions about relationships, they gradually realize that they have more in common than they thought. As Ray opens up to Jane, he helps her to see that her theory about men being like cows is incomplete. He explains that a bull sticks with his cow because they have a history together, and not just because she's "perfect." As a result, Jane begins to reevaluate her approach to relationships and understand that the idea of a perfect partner is unrealistic.
Throughout the film, the audience sees the different approaches to love and relationships from various characters. Eddie, who has a reputation for being a womanizer, swears that he will never settle down with just one woman. Jane, on the other hand, is eager to find her one true love, but she is heartbroken when she thinks she's found him in Eddie. Meanwhile, Ray, who married the love of his life, finds himself struggling to move on when tragedy strikes.
At its core, Someone Like You is a story about the ups and downs of love and relationships. The film presents a relatable and engaging perspective on the over-idealized concept of a perfect partner. It shows how people can learn and grow from heartbreak and find love in unlikely places.
The performances of the actors, especially Ashley Judd and Greg Kinnear, are phenomenal. Judd delivers her lines with wit and conviction, and Kinnear brings a depth and sensitivity to his portrayal of Ray. Hugh Jackman also shines with his portrayal of the charming and complex Eddie. The chemistry between the three leads is palpable and keeps the audience invested in the story.
In conclusion, Someone Like You is a romantic comedy-drama that is worth watching. The movie showcases love and relationships in different ways and is a reminder that sometimes the person we're looking for might be right in front of us. With its witty dialogue and charming actors, Someone Like You is a feel-good film that will leave the audience with a smile on their face.
Someone Like You is a 2001 comedy with a runtime of 1 hour and 37 minutes. It has received mostly poor reviews from critics and viewers, who have given it an IMDb score of 6.0 and a MetaScore of 32.