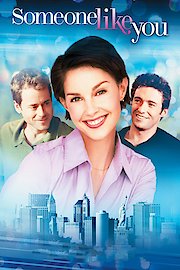 Watch Someone Like You
"The story about the one that got away and the one she never saw coming."
PG-13
2001
1 hr 37 min
32
Someone Like You is about a young woman named Jane who seemingly has it all. She has a high-powered job as a talk-show producer, beauty and a relationship with her dashing, sensitive co-worker named Ray. Ray is a wolf in sheep's clothing, however, as he soon dumps her for a former lover. Jane then finds herself trying to understand men but not in the traditional way. Rather than diving into a bowl of ice cream, Jane instead begins intensive research in much the same way she might research one of her shows. She begins to formulate some rather sexist and hilarious opinions that actually start to get her noticed as a "guru" of sorts among single women. When Jane suddenly finds herself living with the resident womanizer in the office named Eddie, he initially reinforces the opinions that have made her an overnight sensation. Over time, however, she begins to see that not everything is as it seems. Eddie forces her to ask questions she might not be ready to answer and makes her laugh when she wants to cry. Jane's research is not so black and white after all. As Eddie brings out all of these tough questions, Jane begins to see that men are not so different from women when it comes to love. The ultimate showdown between men and women is inevitable, as a clueless Eddie eventually comes face-to-face with the woman that has become so popular to the women's movement of the time. Little did he know that this person would be the woman he is in love with. Jane is played by Ashley Judd, while Greg Kinnear plays the boyfriend that sends her off on this initial search for knowledge of the men in her life. Hugh Jackman plays Eddie, the man that makes Jane question everything. Ellen Barkin and Marisa Tomei play supporting roles.