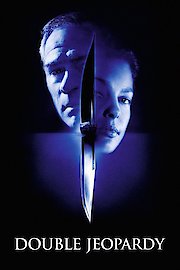 Watch Double Jeopardy
"Murder isn't always a crime."
R
1999
1 hr 45 min
40
Double Jeopardy is a thriller movie from 1999 that follows the journey of a woman named Libby Parsons, played by Ashley Judd. Libby seems to have a perfect life with her husband Nick Parsons, played by Bruce Greenwood, and their son, until one night when Nick goes missing during their sailboat trip. Libby's world is shattered when she wakes up on the boat with a bloody knife in her hands and is charged with the murder of her husband. Although she firmly claims her innocence, the evidence presented against her is overwhelming, and she is convicted. Libby spends six years in prison, where she faces immense hardship, including violence and harassment from fellow inmates. She learns that Nick is not only alive but has faked his death and staged the entire murder to claim the insurance money. Nick also stole their son and began a new life with another woman in the Bahamas. Libby becomes enraged and obsessed with the idea of finding Nick and reclaiming her life. She meets her parole officer, Travis Lehman, played by Tommy Lee Jones, who initially thinks she is guilty but later becomes convinced of her innocence after he discovers Nick is alive. After completing her sentence and being released on parole, Libby starts her hunt for Nick. She tracks him down to a house in New Orleans and sees him with their son, but Nick is already aware of her pursuits and tries to get her convicted for trying to harm him. Libby is forced to flee, and this chase leads her to the Bahamas, where Nick and their son have been living under new identities. She becomes aware of the Double Jeopardy Clause, where one cannot be convicted of the same crime twice, and with the advice of Travis, she plans to murder Nick as revenge for the life he has taken away from her. However, in the Bahamas, Libby discovers a crucial piece of truth and realizes that she may not have to kill Nick to vindicate herself. The subsequent events form the climax of the movie, which concludes with a series of dramatic twists and turns. Throughout the movie, Libby faces challenges that test her strength and her sanity, and the movie depicts her character growing and transforming from a victim to a survivor. The performances of Ashley Judd and Tommy Lee Jones are captivating and intense throughout the movie. Judd plays Libby with vulnerability, steely determination, and passion that make the audience root for her. Tommy Lee Jones delivers an excellent performance as well, bringing depth and complexity to his character, Travis Lehman. Both actors showcase their on-screen chemistry as the movie progresses. The movie explores several themes, including betrayal, revenge, redemption, and the quest for justice. It also delves into the legal system's imperfections and how it can fail the innocent. These themes make the movie's premise relatable to many people, while the captivating performances and excellent direction make Double Jeopardy an entertaining watch that will keep viewers on the edge of their seats throughout. In conclusion, Double Jeopardy is a well-executed thriller movie that showcases Ashley Judd and Tommy Lee Jones's and Bruce Greenwood's talents. The movie's premise is captivating and explores various themes, making it relatable, while the actors' solid performances make it entertaining. The movie, directed by Bruce Beresford, is an excellent watch for anyone looking for a thrilling and engaging movie.