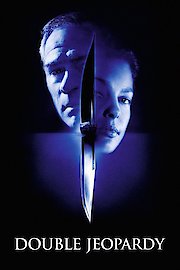 Watch Double Jeopardy
"Murder isn't always a crime."
R
1999
1 hr 45 min
40
From all appearances it looks like a perfect match on the outside between Libby (Ashley Judd) and Nick (Bruce Greenwood), until a romantic getaway involving an evening on a yacht went terribly wrong. The couple have a child (Matty) between them and it is this young one that will cause the anticipation and desperation between them. Although on the surface everything seems to be in order, there are issues with their finances that only Nick is aware of, and as he deals with it, life is getting ready to change for this American family. In addition to financial woes, Nick is having an affair with Angie, who is a friend of the family. When Nick turns up missing from the yacht, and there is evidence of blood everywhere, Libby Parsons is blamed for the outcome of her lost husband and ends up having to go to jail for it. Libby maintains that she is innocent during the entire episode, but is still found guilty and sent to prison for her crime. Rather than see child welfare services take their son, Libby signs her son over to Angie while she is serving time behind bars. Angie leaves town with the boy and Libby tracks her down, only to stumble on the fact that Nick is still alive, and going under a new name. Travis (Tommy Lee Jones) is a hard nosed parole officer who is responsible for the monitoring of Libby as she gets out of prison. With drinking problems of his own, Travis ends up having to chase Libby for violating her parole, as her attempts to find Nick causes her to break a few laws. Eventually Travis becomes a believer and decides that his charge is telling the truth, but not until she tracks down her husband in the French quarter and threatens to kill him if he does not return her son to her. Look for supporting actors like Jay Brazeau (Bobby), Annabeth Gish (Abgie) and Gillian Barber as Rebecca Tingely.