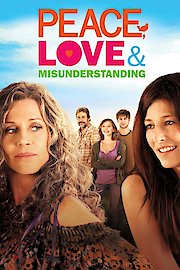 Watch Peace, Love & Misunderstanding
"Life is a journey. Family is a trip."
R
2011
1 hr 32 min
45
In the movie Peace, Love & Misunderstanding, Jane Fonda takes a starring role as Grace, a hippie grandmother that Jane's uptight daughter - Diane, played by Catherine Keener - hasn't spoken to in years. One summer, Diane and her children, Jake and Zoe, played by Nat Wolff and Elizabeth Olsen, leave their comfortable lives in New York City and reluctantly decide to spend some time with Grace in her small town in upstate New York. The family tension is tangible from the start. Diane is a straight-laced lawyer going through a divorce, and her children are city kids that have never been exposed to the free-spirited ideals of their grandmother's past. Grace is still living in the 60s and is all about peace, love, flower power, and smoking weed. As the family spends more time together, old wounds will be reopened, and everyone begins to discover more about themselves and each other than they ever thought they would. The movie is more of a character study about a family trying to break down the walls that they each have built around themselves. The family spends much of their time during the movie taking part in activities and discussions that would not typically have been a part of their lives—vegetarianism, sex, spirituality, and free love. The movie is full of scenes of drum circles, kissing under the stars, and self-discovery, each moment adding to the family's transformation. The cast is terrific. Jane Fonda is outstanding as Grace, and her free-spirit nature made her the perfect casting choice for the role. With her long flowing hair, colorful clothing, and the way she talks about her past experiences, Fonda's naturalism makes her believable as a woman who had lived a life outside of the norm. Catherine Keener is equally impressive, as Diane struggles to reconcile her mother's past with her present, and Elizabeth Olsen gives a great performance as the rebellious daughter who discovers a facet of herself while spending time with her grandmother. Peace, Love & Misunderstanding is a feel-good movie, but it has depth and substance that are appealing. The film explores generational differences, the value of first impressions and the impact that our actions and decisions have on those around us. It also shows that it's never too late to make a change or try new things, and sometimes it is essential to look to the past to understand who we are in the present. The movie's soundtrack is also delightful, with songs from Grace Slick, Jefferson Airplane and Joni Mitchell that bring back the sounds of the '60s. The film also features local talent Brooke Adams, who performs numerous times during the movie. In conclusion, Peace, Love & Misunderstanding is a charming movie that explores family dynamics, loves, and lifestyles that are different from our own. It is an excellent reminder that life is full of surprises and that sometimes, all it takes to fix broken relationships is a bit of patience, understanding, and what Grace often refers to as 'cosmic energy.' The movie is funny, well-acted, and enjoyable, with a great soundtrack that gives a nostalgic feeling to those who lived through the '60s or wish they did.