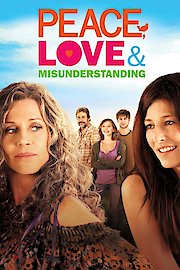 Watch Peace, Love & Misunderstanding
"Life is a journey. Family is a trip."
R
2011
1 hr 32 min
45
Diane is a successful lawyer from Manhattan. She thinks she has her life in order and everything seems to be going perfectly. Just as Diane thinks things couldn't be more perfect, her husband knocks the wind out of her sails and asks her for a divorce. Rather than suffering away in Manhattan, Diane takes her two kids out to Woodstock to stay with her mother. Looking at Diane, it does come as a shock when we are introduced to her mother, who doesn't exactly fit in the typical cookie cutter mother mold. Grace happens to be a Hippie who just wants her grandchildren to get more out of life. Grace teaches her grandchildren about love, poetry and nature. Not only does the summer in Woodstock bring Grace closer to her grandkids, but it helps to restore the relationship that Grace and Diane have lost. Peace, Love & Misunderstanding just goes to show that the relationship between a mother and daughter is never irreparable.