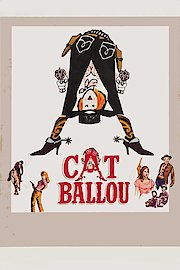 Watch Cat Ballou
"It's That Way-Out Whopper Of A Funny Western...A She-Bang To End All She-Bangs!"
NR
1965
1 hr 37 min
60
Cat Ballou is a classic Western comedy film from 1965, directed by Elliot Silverstein and starring Jane Fonda, Lee Marvin, and Michael Callan. The movie tells the story of Catherine "Cat" Ballou (Jane Fonda), a young woman who is determined to avenge her father's death at the hands of a gang of notorious outlaws known as the Wolfpack.
The film takes place in the Wild West, where Cat returns home to her father's ranch after finishing school. However, she soon learns that her father has been killed by the Wolfpack, a gang of ruthless killers who are terrorizing the town. Determined to seek revenge, Cat enlists the help of a group of outcasts, including a drunken gunfighter named Kid Shelleen (Lee Marvin), who agrees to help her bring the Wolfpack to justice.
As they set out on their mission, they encounter numerous obstacles and challenges along the way, including a corrupt sheriff who is in league with the Wolfpack, and a rival gang of rustlers who are also after the same outlaws. Despite the odds stacked against them, Cat and her team are determined to succeed in their quest for justice.
Throughout the movie, there are many humorous moments and entertaining musical interludes, including a memorable scene where Lee Marvin performs a drunken rendition of "The Ballad of Cat Ballou." The film also features excellent performances from its lead actors, particularly Jane Fonda who brings a strong sense of determination and independence to her role as Cat Ballou.
Overall, Cat Ballou is a fun and entertaining Western comedy that delivers a unique mix of action, humor, and music. The movie is a classic of the genre and a must-see for fans of Westerns and light-hearted comedies alike.
Cat Ballou is a 1965 comedy with a runtime of 1 hour and 37 minutes. It has received moderate reviews from critics and viewers, who have given it an IMDb score of 6.7 and a MetaScore of 60.