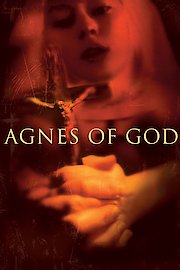 Watch Agnes of God
"That night, murder wasn't the only sin."
PG-13
1985
1 hr 38 min
52
In the 1985 movie Agnes of God, directed by Norman Jewison, Jane Fonda portrays Dr. Martha Livingston, a psychiatrist assigned to evaluate a young nun, Agnes (Meg Tilly), who has been accused of murdering her newborn baby. Anne Bancroft plays Mother Miriam Ruth, the austere superior of the convent where Agnes resides, who is suspicious of Dr. Livingston's motives and makes the evaluation process difficult for her.
Set in a monastery in Montreal, Canada, Agnes of God explores the themes of faith, intellectualism, and the conflict between reason and belief. The story revolves around the investigation into the death of Agnes' baby, which she claims was a result of a virgin birth. This assertion raises questions about Agnes' mental state and her understanding of reality, as well as the possibility of a divine intervention.
As Dr. Livingston delves deeper into the case, she becomes emotionally invested in Agnes' welfare and struggles with her own lack of faith. She also faces resistance from Mother Miriam, who is fiercely protective of Agnes and the convent's reputation. The tension between the two women is further complicated by their opposing beliefs, with Mother Miriam representing blind faith and Dr. Livingston advocating for logical analysis.
The three main characters of the movie each have their own personal and emotional journeys. Agnes, who is portrayed as innocent and childlike, struggles to come to terms with the reality of her situation and the trauma of childbirth. She seeks solace in her faith and the belief that her baby was a gift from God. Mother Miriam, on the other hand, is haunted by her own turbulent past and is torn between her loyalty to the Church and her duty to protect Agnes. Dr. Livingston, a recovering alcoholic and atheist, confronts her own demons as she grapples with the weight of her responsibility to Agnes.
The cinematography of the movie is hauntingly beautiful, with scenes of the monastery and the surrounding landscape evoking a sense of spiritual tranquility. The score, composed by Georges Delerue, is both uplifting and contemplative, adding to the film's ambiance.
Overall, Agnes of God is a thought-provoking movie that challenges its audience to confront their own beliefs and assumptions. It touches on issues of women's rights, mental illness, and religion with sensitivity and compassion. The performances of the three actresses are stellar, particularly Meg Tilly's portrayal of the fragile and enigmatic Agnes. The movie presents a captivating exploration of faith and reason and leaves the audience with much to ponder.
Agnes of God is a 1985 drama with a runtime of 1 hour and 38 minutes. It has received moderate reviews from critics and viewers, who have given it an IMDb score of 6.6 and a MetaScore of 52.