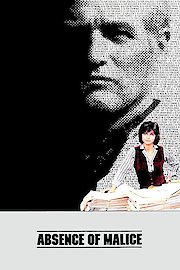 Watch Absence of Malice
"In America can a man be guilty until proven innocent?"
PG
1981
1 hr 56 min
64
When the movie begins, a false newspaper story is published implicating the son of a deceased local crime boss, Michael Gallagher (Paul Newman), in the presumed murder of a union official (Joey Diaz), written by journalist Megan Carter (Sally Field). Carter otained the story from a computer document left purposely open by a federal prosecutor, Elliot Rosen (Bob Balaban). Gallagher's business is shut down and a friend commits suicide following being publicly humiliated by a newspaper story reporting that she had been with Gallagher who had taken her to get an abortion at the time of the murder. Gallagher attempts to get revenge by offering information to District Attorney Quinn, in return for being exonerated. Meanwhile, Gallagher donates a large sum to one of Quinn's supporters. Confused when Quinn clears Gallagher, Rosen begins following both and obtains evidence of the contributions, calling Quinn's motives into question regarding Gallagher's exoneration.