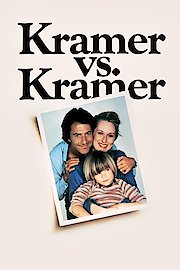 Watch Kramer vs. Kramer
"There are three sides to this love story"
PG
1979
1 hr 45 min
77
Kramer vs. Kramer is a 1979 drama about a woman who abandons her husband and son, only to return several months later to seek custody. The film was written and directed by Robert Benton. Ted Kramer (Dustin Hoffman) is an advertising executive whose wife Joanna (Meryl Streep) decides she's tired of being a wife and mother and wants a divorce. Joanna leaves Ted and their six-year-old son Billy (Justin Henry) to basically fend for themselves. Ted soon finds that being a working, single parent is not all that it's cracked up to be. His work is very demanding and requires his full attention. Ted now has to take on the responsibility for things Joanna once did, such as cooking, cleaning, and the overall care of Billy. Ted also has to deal with Billy's psychological well being, as he doesn't understand why his mother left but badly misses her. Although they go through a rough patch, Ted and Billy are able to remain close. Ted is also able to seek some peace of mind from his neighbor Margaret (Jane Alexander), who is also divorced. Ted's parental responsibilities now interfere with his work. After several warnings and botching an important account, he is fired by his boss, Jim (George Coe). Around this time, Joanna appears back on the scene and informs Ted that she is suing for full custody of their son. Ted is outraged over the fact that Joanna would show back up after over a year and make such demands. Ted retains John Shaunessy (Howard Duff) as his legal counsel. Just before the hearing, Ted is able to secure a job in another firm. The judge awards Joanna custody of Bill, feeling that a child's place is with the mother. On the day that Joanna arrives to pick up Billy, she has second thoughts about the arrangement and realizes that Billy would be better off with Ted.