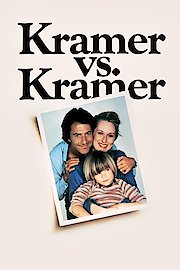 Watch Kramer vs. Kramer
"There are three sides to this love story."
PG
1979
1 hr 45 min
77
Kramer vs. Kramer is a 1979 American drama film directed by Robert Benton and starring Dustin Hoffman, Meryl Streep, and Jane Alexander. The movie is based on the novel of the same name by Avery Corman and explores the complexities of love, marriage, and parenting in the modern world. The film is set in New York City and follows the story of Ted Kramer (played by Dustin Hoffman), a workaholic advertising executive who has recently been promoted to a senior position. His wife Joanna (played by Meryl Streep) is unhappy with their marriage and one day, she suddenly leaves Ted and their young son, Billy (played by Justin Henry). Ted is left to look after Billy on his own and struggles to balance his demanding job with his newfound responsibilities as a single parent. At first, Ted is completely overwhelmed by the challenges of caring for Billy, but with time, he becomes more confident and adept at handling the daily tasks of parenting. However, just when Ted thinks he has everything under control, Joanna returns to reclaim custody of their son. A bitter custody battle follows, with each parent fighting fiercely for the right to raise Billy. The film explores the emotional intensity of the battle between Ted and Joanna, as well as the impact of their divorce on their son. The performances by the lead actors are exceptional, with Dustin Hoffman delivering a powerhouse performance as the conflicted Ted, and Meryl Streep portraying a woman who is torn between her love for her son and her desire for personal fulfillment. The film also delves into larger themes around gender roles and the changing dynamics of modern relationships. Ted's transformation from a distant, work-focused father to a more involved and caring parent reflects a cultural shift towards men taking on a greater role in child-rearing. Similarly, Joanna's struggle to balance motherhood with her own aspirations speaks to the ongoing debate around women's rights and the pressure on women to "have it all." Kramer vs. Kramer was a critical and commercial success upon its release in 1979, winning five Academy Awards including Best Picture, Best Director, Best Actor for Dustin Hoffman, Best Supporting Actress for Meryl Streep, and Best Adapted Screenplay. The film continues to resonate with audiences today and is considered a landmark in the history of American cinema. In conclusion, Kramer vs. Kramer is a stunning drama that explores the complexities of love, marriage, and parenting with compassion and insight. The film features outstanding performances from its lead actors and offers a poignant look at the changing dynamics of family relationships in modern society.