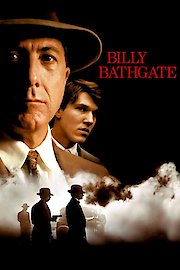 Watch Billy Bathgate
"In 1935, a New York kid was looking for a hero. He found Dutch Schultz."
R
1991
1 hr 46 min
In the early 1930s, the notorious gangster Dutch Schultz ruled the streets of New York City with an iron fist. It was a time of Prohibition, when bootlegging and organized crime thrived in the underbelly of society. Terrified of Schultz's wrath, the citizens of New York lived in fear and the police were powerless to stop him. It was into this world that Billy Bathgate, a young man from the Bronx, was drawn.
Billy was a clever and resourceful teenager who dreamed of a life of adventure and excitement. He idolized Schultz and yearned to be a part of his inner circle. Through a series of chance encounters, Billy was able to ingratiate himself with the fearsome gangster and eventually become his apprentice. As his star began to rise, Billy found himself drawn deeper into the criminal underworld, where he became embroiled in a web of deceit and betrayal.
At the heart of the story is the relationship between Schultz and Billy. Dustin Hoffman delivers a nuanced and captivating performance as the gangster, portraying him as a mercurial figure who is at once charismatic, ruthless, and vulnerable. Nicole Kidman plays Drew, Schultz's glamorous mistress who becomes a pawn in a deadly game of power politics. And Loren Dean shines as Billy, capturing the character's mixture of cunning and naivete.
The film is a period piece that captures the look and feel of New York in the 1930s. The sets and costumes are impeccable, transporting the viewer back in time to an era of fedoras, zoot suits, and glamourous speakeasies. The cinematography is also a standout, with sweeping shots of the cityscape and clever framing that emphasizes the claustrophobic nature of Billy's world.
The script is based on a novel by E.L. Doctorow and is intelligent and well-crafted. The film explores themes of loyalty, ambition, and the corrupting nature of power. Billy's journey from street kid to trusted confidant of a dangerous criminal is both thrilling and harrowing, and the film doesn't shy away from the brutal violence that was a part of everyday life in that era.
Overall, Billy Bathgate is a captivating and well-executed gangster film that is worth watching for the performances alone. Dustin Hoffman is particularly impressive as Dutch Schultz, bringing depth and complexity to a character that could have easily been played as a one-dimensional villain. For fans of crime dramas and period pieces, this film is a must-see.
Billy Bathgate is a 1991 crime movie with a runtime of 1 hour and 46 minutes. It has received moderate reviews from critics and viewers, who have given it an IMDb score of 5.9.