Watch The Others
"Sooner or later she'll see them, then everything will be different."
The Others is a 2001 film written and directed by Alejandro Amenabar and stars Nicole Kidman. Kidman plays Grace Stewart a mother who lives with her two kids in a house out in the middle of no where during the time right after World Ware 2. The two kids, Anne and younger brother Nicholas, have a weird disease called xeroderma pigmentosa which makes them super sensitive to sunlight. Because of the weird disease their lives are pretty structured so that they aren't exposed to sunlight.
After three servants arrive at the house many strange things begin to happen. Anne begins talking about seeing a little boy in the house and gets in trouble with her mom for talking about and believing in ghosts.
Through out the movie Anne makes references to "what happened that day" and is hushed by her brother. Anne continues to speak of the little boy she has seen and soon begins to speak of others as well, including an old women. Grace, fed up with the 'pranks' that Anne is playing, makes Anne read from the Bible for several days.
Soon Grace begins to hear noises and notice strange things happening throughout the house. She then leaves the house to go into town to try and find a priest to bless the house. When she is leaving she runs into her husband coming up the driveway. Having thought that he had been killed in the war she forgets her task and escorts him into the house. Her husband acts weird for the short time he is there and then begins insisting that he must return to battle. Grace tries to tell him that the war is over and he insists "it is never over for me." After a night of intimacy Grace awakes to find that her husband has disappeared.
Soon we learn maybe things are not as we thought. Grace and the children learn that the servants that they have let into their home have gravestones in the cemetery.
After a climatic turn of events we learn that the real spooks in the house are none other then Grace, Anne and Nicholas and the event that Anne makes reference to through out the movie is in fact their death.
|
2001
|
1 hr 44 min
|

/

10
Cast

Studio

Director

Alejandro Amenabar

Language

English
The Others News
Nicole Kidman Really Knows How to Clap
May 09, 2017 @ 12:18 pm PST
|
Read More

Rabbit Hole star Nicole Kidman nominated for Golden Globe
December 24, 2010 @ 9:37 am PST
|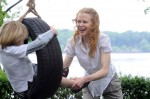 Nicole Kidman, the star of the independent movie Rabbit Hole, which is about a mother who has to deal with the death of her child, has been nominated for a Golden Globe award.
The independent movie was recently released in many theatres in the United States, and is based on the Pulitzer prize-winning play by David Lindsay-Abaire.
Aaron Eckhart also stars in the movie as Kidman's partner, and Nicole actually produced the film as well as starring in it.
Read More

Nicole Kidman Doesn't Mind Nudity, Admits Using Botox
January 14, 2011 @ 3:14 pm PST
|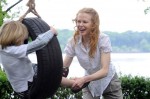 Nicole Kidman, star of Rabbit Hole, has recently spoken out in an interview about her feelings on doing nude scenes as part of her work.
Kidman, who was once married to Tom Cruise – who is now married to Katie Holmes, said that she had no issues with doing nude scenes at all.
The actress said that since she gave birth to her daughter three years ago her body has changed a lot, but that she does not let this affect her ability or attitude when it comes to doing nude scenes.
Read More

Eyes Wide Shut star Nicole Kidman opens heart about adopted kids, living with Tom Cruise
December 22, 2010 @ 5:52 pm PST
|
They once starred together in the movie Eyes Wide Shut, and more importantly were married to one another for a whole decade.
However, the fairytale for Australian actress Nicole Kidman and Hollywood actor Tom Cruise eventually fell apart, and he hooked up with actress Katie Holmes, to whom he is now married.
Kidman, who also starred in movies such as The Others and Moulin Rouge, has recently opened her heart about how she feels about the two children that she and Cruise adopted during their ten year marriage.
Read More


Watch The Others Trailer

The Others (2001) Official Trailer 1 - Nicole Kidman Movie
|
1:43
Watch The Others Online - Watch online anytime anywhere: Stream, Buy, Rent
The Others is currently available to watch and stream, buy, rent on demand at FlixFling VOD, Amazon, Vudu, Google Play, YouTube VOD, iTunes online.