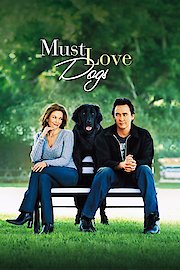 Watch Must Love Dogs
"The hardest trick is making them stay."
PG-13
2005
1 hr 38 min
46
Must Love Dogs is a 2005 romantic comedy-drama film based on the novel of the same name written by Claire Cook. The movie is directed by Gary David Goldberg and stars Diane Lane, John Cusack, and Elizabeth Perkins in the lead roles. The movie revolves around Sarah Nolan (Diane Lane), a recently divorced pre-school teacher who is navigating the dating world once again. Sarah's family, comprising her overbearing sister Carol (Elizabeth Perkins) and her supportive father Bill (Christopher Plummer) thinks that she should get back to dating and move on from her divorce.
Driven by her family's pressure, Sarah decides to try online dating and creates a profile on a dating website called "perfectmatch.com," where she meets several different men, including the charming and quirky Jake Anderson (John Cusack). Jake, a boat builder, has an affinity for dogs and puns, which Sarah finds endearing.
Sarah also meets Bob Connor (Dermot Mulroney), an attractive but self-absorbed businessman who seems to check off all of the boxes on Sarah's ideal man list. As Sarah juggles her feelings for both Bob and Jake, she soon realizes that finding love after divorce is not as easy as it seems.
As Sarah gets to know Jake, she discovers that he is also going through a rough time in his life, having lost his wife to cancer. Sarah and Jake share a special connection based on their shared love for dogs, as they bond over their respective pets. However, Sarah fears getting too close to Jake as she doesn't want to get hurt again.
Meanwhile, Bob's attention towards Sarah becomes more intense, and he even manages to impress her family. Sarah is torn between Bob, the perfect guy on paper, and Jake, the quirky and compassionate man she's developed real feelings for. Sarah's confusion about what she wants and her hesitant nature drives her to make a risky and unconventional decision which could change her life forever.
The movie features an ensemble cast of fine actors, with standout performances by Diane Lane and John Cusack. Lane, in particular, shines in her portrayal of Sarah, bringing vulnerability and relatability to her character. John Cusack's characteristic quirkiness and wit add charm to his character and make him an endearing love interest.
The film's lighthearted tone and upbeat soundtrack make it a perfect romantic comedy that will leave you feeling warm and fuzzy inside. It is a heartwarming and relatable story that explores the complexities of modern-day dating, relationships, and love.
Overall, Must Love Dogs is an enjoyable and delightful romantic comedy-drama that is perfect for a lazy Sunday afternoon watch. It is a feel-good movie with a relatable story and outstanding performances, which will leave viewers smiling and feeling optimistic about love.
Must Love Dogs is a 2005 romance movie with a runtime of 1 hour and 38 minutes. It has received mostly poor reviews from critics and viewers, who have given it an IMDb score of 5.9 and a MetaScore of 46.