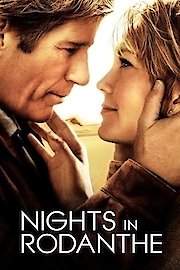 Watch Nights in Rodanthe
"It's never too late for a second chance"
PG-13
2008
1 hr 37 min
39
Nights in Rodanthe is a romantic drama film adapted from the novel by Nicholas Sparks. It stars Diane Lane as Adrienne Willis, a divorced mother of two, and Richard Gere as Dr. Paul Flanner, a widowed surgeon. The film takes place in the small coastal town of Rodanthe, North Carolina, where Adrienne is about to spend a weekend looking after a friend's bed and breakfast alongside the ocean.
Upon arriving in Rodanthe, Adrienne is filled with anxiety about the state of her life. She is stuck in a tedious job as a housekeeper and has been alone since her husband left her for a younger woman. Meanwhile, Paul arrives in town to confront a past mistake, leaving his son (Christopher Meloni) feeling resentful and neglected.
During the course of the weekend, Adrienne and Paul develop a deep connection as they share their individual struggles and secrets. They learn more about each other, and in turn, themselves. Despite their initial animosity, the two create a mutual understanding that blossoms into a romance that seems impossible to resist.
Their romance is not without challenges as Paul struggles with the guilt he feels over a past mistake, and Adrienne has to grapple with her trust issues in relationships. They both face a critical decision when they are forced to choose between their love for each other or their personal obligations.
Aside from the main plot of the story, the movie also emphasizes the power of second chances and the importance of finding hope in the most unlikely of situations. The breathtaking and captivating scenery of Rodanthe serves as the perfect backdrop for the film, immersing viewers into the heart of the story.
Nights in Rodanthe is an emotionally evocative film that explores love, loss, and life after trauma. It features excellent performances from its two lead actors who effectively showcase the complexity of their characters. The sensitive portrayal of a mature love story is a refreshing break from the typical Hollywood romance. Rather than falling into the usual predictable plot lines, the story is grounded in relatable characters with genuine emotions and struggles.
Overall, Nights in Rodanthe is a heartfelt and delightful film with an inspirational message that reminds us that love has the power to heal and bring forth positive change. It is a highly recommended watch for anyone who loves romance dramas and enjoys an emotionally satisfying film.
Nights in Rodanthe is a 2008 drama with a runtime of 1 hour and 37 minutes. It has received mostly poor reviews from critics and viewers, who have given it an IMDb score of 6.0 and a MetaScore of 39.