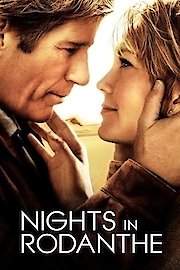 Watch Nights in Rodanthe
"It's never too late for a second chance"
PG-13
2008
1 hr 37 min
39
The movie Nights in Rodanthe was released in 2008 and stars Richard Gere and Diane Lane; the actors had previously starred together in two other critical and box office successes. Nights in Rodanthe is based on the novel of the same name by American author Nicholas Sparks, who found fame for his novels and film adaptations including A Walk to Remember and Message in a Bottle. Nights in Rodanthe tells the story of the relationship that grows and is eventually lost between two middle aged people called Paul and Adrienne. The film opens with Adrienne being told by her estranged husband, Jack that he still loves her and wishes to move back into their home; Adrienne is upset by Jack's statements and tells him he only wishes to return because his new girlfriend has dumped him. Following her rejection of Jack's attempt at reconciliation Adrienne travels to the small North Carolina seaside town of Rodanthe to escape the ensuing problems with her daughter. Adrienne's friend offers her an escape in the form of looking after her small inn for a weekend; at the inn only one guest is present, a surgeon called Paul. Following a failed surgery in which a young female patient died Paul is in the middle of a legal battle with the family of his dead patient who live in the town of Rodanthe. An approaching storm forces Paul and Adrienne to work together to look after the inn and spend the entire weekend in each others company. During the weekend the pair fall for each other and begin a romantic relationship prompted by their opening up to each other about their problems. Paul reveals he and his son, Mark are no longer in contact after his son, also a doctor left the country to offer medicine to people in South America. Adrienne encourages Paul to travel to South America to repair his relationship with Mark. At the set time of their reunion Paul does not return to meet Adrienne and is revealed by his son to be dead after a freak mudslide in South America; prompted to tell the story by her daughter Adrienne explains why she is grief stricken. Sharing the story of her relationship with Paul brings Adrienne closer to her daughter and allows her to move on with her life.