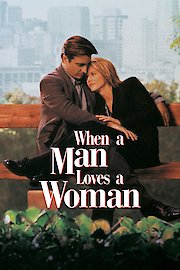 Watch When a Man Loves a Woman
"Through the good times. Through the bad times. When a Man Loves a Woman it's for all times."
R
1994
2 hr 6 min
When a Man Loves a Woman is a 1994 film that stars Meg Ryan, Andy Garcia, Tina Majorino, Ellen Burstyn, Lauren Tom, Phillip Seymour Hoffman and Mae Whitman. Meg Ryan portrays a woman named Alice. She has two young daughters and struggles with her addiction to alcohol. She is married to a man named Michael who is played by actor Andy Garcia. The couple has one child together named Casey, and Alice has a daughter named Jessica from a previous relationship. Michael is an airline pilot who is very devoted to his family. Alice does well at her job as a guidance counselor, but her alcoholism is impacting her parenting. She often gets drunk, and her husband Michael has to take care of things around the house. Jessica is only nine years old but feels responsible for her four-year-old sister Casey and her mother. One day, Alice gets very drunk and takes a shower. She passes out and falls through the glass shower door onto the bathroom floor. Jessica hears this and thinks her mother is dead. She calls her father Michael, who is away, and he gets her some help. The accident leads to Alice having to go to rehab. She learns what caused her to become an alcoholic. She leans on a male friend who she meets in rehab, and Michael feels as though her new-found sobriety has ruined their relationship. Alice tells Michael that she was too dependent on him and that he preferred her drunk because he would have to take care of her. This leads to Michael moving out of the home. He decides to go to a support group for family members of alcoholics, where he tells his story. He is offered a job in Denver and decides to take it. The two end up reconciling after Alice makes a speech at AA.