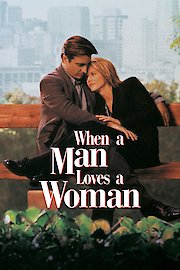 Watch When a Man Loves a Woman
"Through the good times. Through the bad times. When a Man Loves a Woman it's for all times."
R
1994
2 hr 6 min
When a Man Loves a Woman is a 1994 drama film directed by Luis Mandoki, starring Meg Ryan, Andy Garcia, and Ellen Burstyn. The film was well-received by critics and audiences for its emotional depth and powerful performances. The movie follows the emotional journey of Alice Green (Meg Ryan), a high school guidance counselor and mother of two young daughters. Alice is an alcoholic and has been struggling with addiction for years, putting a tremendous strain on her family dynamic. Her husband, Michael (Andy Garcia), is a pilot who loves his wife despite her issues but finds it increasingly difficult to cope with her alcoholism and its devastating consequences. The movie begins with a shocking scene of Alice's drunken blackout, which prompts Michael to realize that he cannot continue to ignore her addiction. He confronts her, and together they decide to seek professional help. The movie then shows Alice's long and difficult road to recovery, with the support of her friends, family, and the Alcoholics Anonymous program. Throughout the movie, Alice struggles with guilt, shame, and the fear of losing everything she has worked so hard for, including her family and her career. She struggles to accept that she is an alcoholic and tries to deny the severity of her addiction. Meanwhile, Michael struggles to deal with his own feelings of anger, hurt, and betrayal, as he watches his wife slip away into addiction. The movie highlights the impact of addiction on relationships, particularly on the relationship between Alice and Michael. At times, it seems as though they might not make it through the turmoil and the pain. However, they both find the strength to persevere, as they realize that their love for each other can overcome even the most difficult of circumstances. When a Man Loves a Woman also explores the theme of forgiveness, as both Alice and Michael must learn to forgive each other for their mistakes and move forward in their relationship. The film shows that true love involves more than just passion and romantic feelings, but also the willingness to forgive and support each other through the good times and the bad. The acting in When a Man Loves a Woman is top-notch, with Meg Ryan delivering an emotional and authentic performance as the struggling alcoholic. Andy Garcia is equally impressive as her husband, portraying the complex emotions and struggles he faces as he deals with his wife's addiction. Ellen Burstyn also shines in her supporting role, as Alice's mother who has her own issues to deal with. The movie is visually stunning, with beautiful cinematography that captures the emotional intensity of the story. The music also adds to the overall emotional impact of the film. In conclusion, When a Man Loves a Woman is a powerful and thought-provoking movie that explores the themes of addiction, love, forgiveness, and family. It is a must-watch for those who appreciate nuanced and heartfelt storytelling, as well as for those who have been affected by addiction.