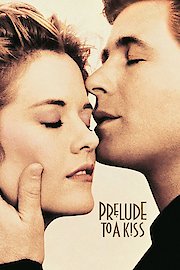 Watch Prelude to a Kiss
"If you can't believe your eyes, trust your heart."
PG-13
1992
1 hr 45 min
The movie Prelude to a Kiss is a 1992 romantic comedy-drama directed by Norman René and based on a play of the same name by Craig Lucas. The film stars Meg Ryan as Rita Boyle, a young woman who falls in love with a man named Peter Hoskins, played by Alec Baldwin. The two quickly get engaged, but on their wedding day, something strange happens that changes their lives forever. At the wedding reception, an old man approaches the couple and asks to kiss the bride. Rita, feeling uncomfortable but not wanting to be rude, obliges. However, after the kiss, the old man's body switches with Peter's, leaving Rita married to a stranger. Panicked, she sets out to find the real Peter and get her old life back. What follows is a funny but emotional journey as Rita tries to come to terms with the fact that her husband has been replaced by a stranger. Meanwhile, the real Peter is stuck in the old man's body, trying to convince everyone of the truth. As the days go by, Rita begins to realize that the man she loves isn't just his body but something deeper inside him. The film tackles themes of identity, love, and mortality in a lighthearted but thought-provoking way. The performances by Ryan and Baldwin are excellent, with Ryan showing her range as an actress in her portrayal of a woman struggling with the reality of her situation. Baldwin is also excellent as both the charming Peter and the confused old man. One of the strengths of Prelude to a Kiss is its supporting cast, which includes Kathy Bates as Rita's mother, who provides some of the film's most comedic moments. The film also boasts a beautiful score by Howard Shore, which adds to the romantic and dreamlike quality of the story. Overall, Prelude to a Kiss is a touching and cleverly written film that will appeal to anyone who loves a good romantic comedy. It manages to balance humor and drama without ever feeling manipulative or contrived. At its core, it's a story about the power of love and how it can transcend physical appearances. The film's ending is also satisfying and poignant, bringing the story full circle in a way that feels both realistic and hopeful. In conclusion, Prelude to a Kiss is a romantic comedy-drama that has aged well since its release in 1992. With strong performances, witty writing, and a beautiful score, it's a film that will leave viewers with a smile on their face and a warm feeling in their heart.