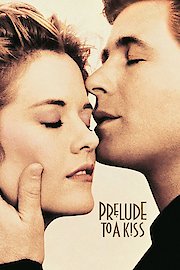 Watch Prelude to a Kiss
"If you can't believe your eyes, trust your heart."
PG-13
1992
1 hr 45 min
Prelude to a Kiss has an all-star cast that includes Meg Ryan, Alec Baldwin and the legend Kathy Bates. When Ryan and Baldwin fall in love, her pessimistic outlook on the relationship causes a great deal of strain. However, some supernatural happenings cause things to take a drastic turn and their relationship heads in a whole new direction. Ryan exchanges souls with an older man, which causes Baldwin to do one of the rated best performances of his career. In order to reclaim the soul of his love, he must kiss the man and get it back. It's a twist and turn of emotions as they both embark on a spiritual journey.