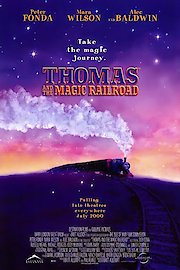 Watch Thomas and the Magic Railroad
"Little Engines CAN Do Big Things..."
G
2000
1 hr 27 min
19
Thomas the Tank Engine has been a timeless favorite for kids of all ages. He is always willing to learn through investigation and adventure. In Thomas and the Magic Railroad, he and his new friends embark on a journey to help Mr. Conductor gather more special gold dust. Mr. Conductor urgently needs the dust so he can magically travel to and from fun and exciting places, including the island of Sodor where Thomas lives. Along the way, Thomas and friends encounter some evil competition. Diesel engines are bullying all the smaller steam engines because they want the territory all to themselves. After several encounters, Thomas and friends devise a way to address the evil diesel locomotive leader who calls himself Diesel 10. While searching for the magic dust, Thomas and friends realize that a special engine was lost on her way to Shining Time Station. This unique engine was able to travel freely along the Magic Railroad so Thomas decides he has to find her. During the search he encounters a mysterious old man who offers lots of sage advice and even more practical help for Thomas and friends.