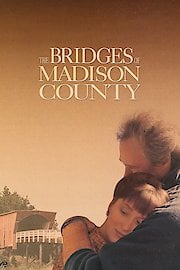 Watch The Bridges of Madison County
"The path of Francesca Johnson's future seems destined due to an unexpected fork in the road..."
PG-13
1995
2 hr 15 min
69
In the movie The Bridges of Madison County, Clint Eastwood plays Robert Kincaid, a National Geographic photographer who is assigned to do a photo shoot on the covered bridges of Madison County in Iowa. While there, he meets Francesca Johnson, played by Meryl Streep, an Italian immigrant who married an American soldier and moved to Iowa to start a family. Francesca is a quiet woman who has spent her life taking care of her husband and children, but she is drawn to Robert's sophistication and talent. Over the course of a few days, Robert and Francesca fall in love and explore their feelings for each other.
The Bridges of Madison County is a beautiful and poignant film that explores the themes of love, loss, and missed opportunities. Clint Eastwood and Meryl Streep deliver incredible performances as the film's leads, with Eastwood bringing a rugged charm to his role as Robert and Streep capturing the inner turmoil of Francesca. The movie is set in the 1960s and the filmmakers do an excellent job of capturing the time period through the film's costumes, music, and cinematography.
One of the most notable aspects of The Bridges of Madison County is its depiction of an extramarital affair. The film does not condone infidelity, but instead explores the complexity of human relationships and the choices we make. The audience is left to grapple with the moral implications of Robert and Francesca's actions, but the film ultimately asks us to empathize with the characters and consider the reasons behind their decisions.
In addition to Eastwood and Streep, Annie Corley delivers a standout performance as Francesca's daughter, Carolyn. Carolyn is a headstrong young woman who clashes with her mother over their differing views on traditional gender roles, and Corley portrays her with a nuanced mix of frustration and vulnerability.
The Bridges of Madison County is a quiet and introspective film that may not appeal to everyone. However, for those willing to engage with its themes and characters, it offers a deeply moving and thought-provoking viewing experience. With its stunning performances, beautiful visuals, and restrained direction, it is a film that will stay with you long after the credits roll.
In conclusion, The Bridges of Madison County is a heartrending and beautiful film that tells the story of two people who fall in love at a time and place when it seems impossible. With Clint Eastwood and Meryl Streep delivering powerful and nuanced performances and a script that explores complex themes with sensitivity and grace, it is a film that is not to be missed.
The Bridges of Madison County is a 1995 drama with a runtime of 2 hours and 15 minutes. It has received mostly positive reviews from critics and viewers, who have given it an IMDb score of 7.6 and a MetaScore of 69.