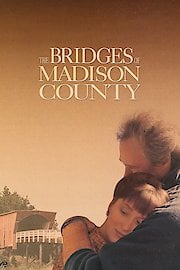 Watch The Bridges of Madison County
"The path of Francesca Johnson's future seems destined due to an unexpected fork in the road..."
PG-13
1995
2 hr 15 min
69
This movie is based on a best-selling novel by Robert James Waller. Clint Eastwood directs and stars in this film with Meryl Streep. The children of Francesca Johnson (Streep) are at her house to settle their dearly departed mother's estate. They are shocked by her unusual request for the cremation and scattering of her ashes off the Roseman Covered Bridge verses being buried beside their dad, whom they believed was the only man in her life.. The children don't want to grant their mother's wish at first, but upon reading letters from a man named Robert Kincaid (Eastwood), they realize the reason for the strange request from their mother. It's revealed through the letters that Kincaid's ashes have already been previously scattered off the bridge. Francesca was an Italian war bride living in the country with her two small children and their father. Reflectively, the family has gone off to the Illinois State Fair and left Francesca alone in the 1960's. Robert Kincaid enters her somewhat boring housewife, life looking for the covered bridges in the area. After debating whether or not to help him find the bridges, she agrees. Pictures of Francesca reveal a young and vibrant woman taken by Kincaid during their brief encounter. The affair is revealed through a series of diaries where the children learn that their mother sacrificed true love for them. The love is short and intense. Francesca actually considers leaving with Kincaid, but the consequences for her husband and children stops her in the end. The shock of their mother's revelation that she almost left with Kincaid actually helps them find direction in their lives. Both children are facing marital problems themselves, and the story their mother leaves them helps to make sense of it all. Their love for their mother and her sacrifice allows them to grant her final request. The movie has a running time of two hours and fifteen minutes. There are brief scenes of nudity during the affair scenes between Francesca and Kincaid. This drama, romance is rated R.