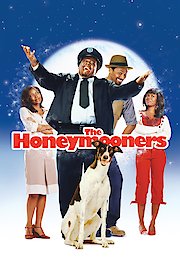 Watch The Honeymooners
"Dream big. Scheme bigger."
PG-13
2005
1 hr 30 min
31
The Honeymooners is a comedy film released in 2005 and directed by John Schultz. The movie is based on the classic television sitcom, also called The Honeymooners, which aired in the 1950s. The movie follows the story of two working-class friends, Ralph Kramden (Cedric the Entertainer) and Ed Norton (Mike Epps), who dream of becoming rich overnight. They believe that buying a rundown bus and turning it into a charter service will be their ticket to success. Ralph Kramden is a New York City bus driver who shares a small apartment in Brooklyn with his wife Alice (Gabrielle Union). Ralph is a big dreamer, always coming up with get-rich-quick schemes that never seem to pan out. Ed, who is Ralph's best friend and neighbor, is a sewer worker and a gambler who always seems to owe Ralph money. Despite their financial struggles, Ralph and Alice have a strong and loving marriage. However, when they win a contest for a free trip to Miami, Ralph sees it as an opportunity to become wealthy. He tries to sell their plane tickets and instead use the money to invest in the charter bus business with Ed. Alice is initially upset when she finds out but eventually agrees to go along with Ralph's plan. As they begin to work on fixing up the bus, they encounter a number of setbacks, including sabotage from a rival bus company. They also have to deal with the fact that they have no experience in running a business. While Ralph and Ed are putting all their effort into getting their business off the ground, Alice is left alone in Miami. As the story unfolds, Ralph and Ed get into one hilarious mishap after another. They end up losing the bus in a bet and have to retrieve it from a boat that is headed to the Caribbean. Their attempts to make money by taking on odd jobs only lead to further troubles. Throughout the film, Cedric the Entertainer provides his signature brand of comedy, delivering one-liners and exaggerated facial expressions that will have viewers laughing out loud. Mike Epps is also a standout, providing plenty of laughs with his fast-talking and humorous antics. The movie's comedic moments are balanced with some heartfelt and touching scenes, particularly those between Ralph and Alice. The two have a strong bond and their love for each other is evident throughout the film. Overall, The Honeymooners is a fun and entertaining movie that pays tribute to the original sitcom while introducing a new generation to the beloved characters. It's a great choice for anyone looking for a good laugh and a feel-good story.