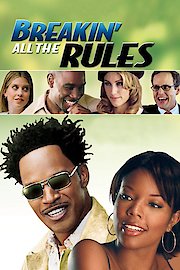 Watch Breakin' All the Rules
"When it comes to getting dumped... He wrote the book."
PG-13
2004
1 hr 25 min
46
Breakin' All the Rules is a romantic comedy film that was released in 2004. The movie is directed by Daniel Taplitz and features an ensemble cast, including Jamie Foxx, Gabrielle Union, Morris Chestnut, and Jennifer Esposito. The plot revolves around a man named Quincy Watson (played by Foxx), who gets dumped by his girlfriend Helen (played by Esposito) and decides to write a book to help others deal with a break-up. However, things take a turn when he falls in love with his cousin's best friend, Nicky (played by Union). The movie begins with Quincy, a successful executive, getting dumped by his girlfriend Helen after three years of dating. Heartbroken, Quincy struggles to cope with the break-up and becomes depressed. However, he soon discovers that his cousin Evan (played by Chestnut) is also going through a break-up, and he decides to help him out. Quincy writes down all the tips and advice he has used in the past to get over a break-up and hands it over to Evan. Soon after, Quincy receives a phone call from Evan, informing him that the tips worked, and he has moved on completely. Quincy is thrilled, and he decides to write a book detailing all his advice and tips to help others get over a break-up. The book becomes an instant success, and Quincy becomes a celebrity author. However, things take a turn when Quincy meets Nicky and falls in love with her. The problem is, Nicky is Evan's best friend, and he strictly forbids his friends from dating his family members. Quincy and Nicky hit it off, but they both know that they cannot be together due to Evan's strict rule. However, love has a way of finding its way, and Quincy and Nicky's relationship deepens. Things become complicated when Evan falls in love with Helen, Quincy's ex-girlfriend, and decides to get back with her. Quincy, who has moved on from Helen, is not happy about Evan dating his ex and tries to stop him. However, things only get worse when Nicky's ex-boyfriend appears on the scene, and Nicky is forced to choose between him and Quincy. The movie is a classic romantic comedy, and it has all the elements that make a romantic comedy successful. There are plenty of laugh-out-loud moments and heartwarming scenes that will leave the audience feeling good. Jamie Foxx does an excellent job of portraying Quincy, and his chemistry with Gabrielle Union is palpable. Overall, Breakin' All the Rules is an entertaining movie that will appeal to fans of the romantic comedy genre. The movie touches on themes of love, friendship, and betrayal, and it does so in a way that is both entertaining and engaging.