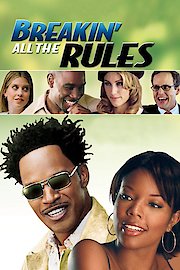 Watch Breakin' All the Rules
"When it comes to getting dumped... He wrote the book."
PG-13
2004
1 hr 25 min
46
This comedy stars Jamie Foxx as a writer who, after a troublesome break-up, writes a self-help book to guide men through the end of their relationships. Much to the author's surprise, the book becomes a run-away bestseller, and he finds himself wrapped up in hilarious hijinks as a result of his new-found fame. The film was written and directed by Daniel Taplitz, and it co-stars Gabrielle Union, Morris Chestnut, Jennifer Esposito, Bianca Lawson, and Peter MacNicol. It was initially released in May 2004 and went on to gross nearly $12 million during its run in theaters.