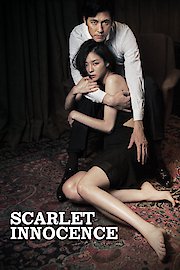 Watch Scarlet Innocence
"Love, lust and obsession."
2014
1 hr 52 min
Scarlet Innocence is a 2014 South Korean thriller film directed by Yim Pil-sung, starring Jung Woo-sung, Esom, and So-young Park. The movie tells the story of a middle-aged professor named Hak-kyu who moves to a small town to start a new life after a painful divorce. Although Hak-kyu seems to have everything under control, he quickly becomes fascinated with a young woman named Deok-ee, who lives next door. Deok-ee is like no other woman Hak-kyu has ever met, and he finds himself drawn to her in ways he cannot explain. As Hak-kyu begins to spend more time with Deok-ee, she starts to open up to him, revealing secrets about her past and her family. Despite their age difference, the two begin a passionate affair, which quickly spirals out of control. Deok-ee becomes increasingly jealous and possessive of Hak-kyu, and he finds himself trapped in a dangerous web of love, lust, and obsession. As the relationship between Hak-kyu and Deok-ee intensifies, so too does the suspense and intrigue of the movie. The audience is drawn into a world of secrets, lies, and hidden agendas, as Hak-kyu tries to navigate his way through a web of danger and deceit. The tension builds to a thrilling climax as the true nature of Hak-kyu's relationship with Deok-ee is finally revealed, along with the devastating consequences of his actions. Jung Woo-sung delivers a powerful performance as the tortured and conflicted Hak-kyu, while Esom is equally compelling as the enigmatic and alluring Deok-ee. So-young Park also gives a standout performance as Deok-ee's troubled sister, adding depth and complexity to the story. The cinematography of Scarlet Innocence is also impressive, with beautiful shots of the Korean countryside and atmospheric lighting creating a moody and haunting atmosphere. The score is equally compelling, with a haunting melody that reinforces the movie's themes of love, loss, and obsession. Overall, Scarlet Innocence is a powerful and suspenseful movie that explores the dark side of desire and the consequences of obsession. With great performances, stunning cinematography, and a haunting score, it is a movie that is sure to leave a lasting impression on its viewers.