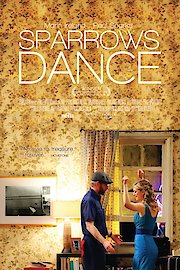 Watch Sparrows Dance
NR
2013
1 hr 21 min
69
Sparrows Dance is a 2012 independent film directed by Noah Buschel, starring Marin Ireland, Paul Sparks, and Niesha Butler. The film tells the story of a former Broadway actress who isolates herself in a small New York City apartment after suffering from intense anxiety attacks. The film begins with the protagonist, known only as "Woman," living a solitary life in her apartment. She keeps to herself and rarely leaves the apartment, except to pick up groceries or to seek medical help for her condition. We learn that Woman has suffered from anxiety attacks for several years, which ultimately led to the end of her Broadway career. The film cleverly shows her daily routine and how she copes with her condition using various strategies.
One day, a strange incident occurs that upsets Woman's routine. A bird flies into her apartment and becomes trapped, causing her to panic. She becomes obsessed with the bird and is determined to free it, eventually succeeding after a great deal of effort. This event triggers a gradual change in Woman's outlook, as it leads her out of her self-imposed isolation and into the path of a handsome and kind plumber, played by Paul Sparks.
The plumber, known only as "Man," comes to Woman's apartment to fix a leaky faucet, and Woman is immediately taken with him. The two have a tentative conversation, which leads to an unlikely romance that develops over the course of the film. Man's kind nature and warm personality gradually help Woman break free from her anxieties, and she starts to venture out of her apartment more often.
Sparrows Dance portrays the beauty and power of human connection, illustrating how cleverly the film shows the progression of the characters' relationship as they overcome their problems together. The two lead characters have different backgrounds but are bound by their shared loneliness and desire for human companionship. Woman and Man's interactions provide a sweet and subtle portrayal of what it is to care for someone with care and tenderness displayed on screen.
The film's direction and screenplay are helmed gracefully by Noah Buschel, who helps bring the story to life in a subdued yet effective manner. The film's cinematography is noteworthy, primarily because the movie takes place in a cramped studio apartment, which would have meant the limited use of space. The camera angles, shots, and lighting make the viewers feel the closing-in of the small space yet still manage to present the vast emotions shown on the character's faces.
Sparrows Dance's central theme is the concept of healing through companionship, with woman's anxieties being an excellent example of how people can relate to how anxieties can cripple someone. Woman had lost her means of livelihood and identity when her anxiety attacks began, which is a scenario that many audiences can relate to. Even Man could see beneath her anxiety and recognize her worth and individuality. This portrayal is what makes the movie engaging, and it will resonate with anyone who deals with mental health struggles.
Overall, Sparrows Dance is a heartwarming and subdued indie film that will undoubtedly impress audiences who are seeking something grounded in reality. The film will appeal most to those who appreciate subtle yet emotional character-driven narratives. Although the movie only has two main actors, it's well directed, well-written, and well-adapted to a small apartment setting that manages to keep the viewer engaged throughout the entirety of the film.
Sparrows Dance is a 2013 comedy with a runtime of 1 hour and 21 minutes. It has received mostly positive reviews from critics and viewers, who have given it an IMDb score of 6.7 and a MetaScore of 69.