Straw Dogs
"Sometimes a man is forced to defend his honor."
Straw Dogs is a movie that first hit the screen back in 1971. The movie Straw Dogs starred Dustin Hoffman, Susan George, Peter Vaughan, T.P. McKenna, Del Henney, Jim Norton. The director of the film was Sam Peckinpah. The producer of the film was Daniel Melnick. The screenplay was written by Sam Peckinpah and was based on the best-selling book "The Siege of Trencher's" by Gordon Williams.
Dustin Hoffman plays the lead character who is named David Summer. David is a very timid American mathematician. He is completely disturbed and upset by all the violence that is going on in the big cities in America. He decides to abandon the violence and leave the country. He is determined to live a peaceful life without violence. He takes his wife Amy played by Susan George to live in a peaceful Cornish village in England. It seems to be a very isolated and serene country setting. This is exactly what he desires.
Dustin Hoffman's character and Susan George's character find that all is not as peaceful as it seems in the isolated Cornish Village. Their marriage also starts to get a bit rocky over some personal issues. Their marriage starts to deteriorate over the roles that the man and woman should play in a marriage.
The local villagers are not as peaceful as the couple assumed. Many of the villagers recent the outsiders and are openly hostile. Village workman play several very hostile tricks on Dustin Hoffman's character. Hoffman's wife tries to convince him that the villagers and the workmen are trying to intimidate them.
Soon the peaceful villagers start to terrorize the couple. Hoffman's wife is raped by village workmen. A number of serious incidents occur. The villagers ultimately gang up on the two new comers. Finally, Hoffman gives in to the violence and seeks revenge on the workmen who raped his wife and the hostile town people.
|
1971
|
1 hr 58 min
|

/

10
|

Cast

Dustin Hoffman

,

Susan George

,

Peter Vaughan

,

T.P. McKenna

Director

Sam Peckinpah

Produced By

Daniel Melnick

Language

English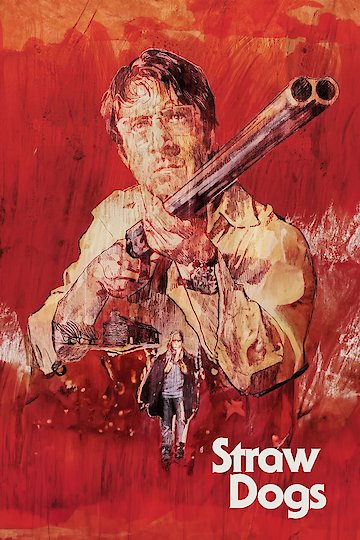 Also starring Susan George