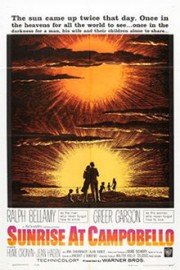 Watch Sunrise at Campobello
NR
1960
2 hr 24 min
82
Sunrise at Campobello is a biographical drama movie set in the 1920s in Campobello Island, Canada. The movie revolves around the life of Franklin D. Roosevelt, who is portrayed by Ralph Bellamy, and his wife, Eleanor Roosevelt, who is played by Greer Garson. Hume Cronyn portrays FDR's advisor, Louis Howe. The movie begins with FDR's family vacationing at Campobello Island. FDR, who was then Governor of New York, was looking forward to taking a break and spending quality time with his wife and children. However, things take a turn for the worse when FDR suddenly falls ill with what is suspected to be polio. The family rushes him back to their home in Hyde Park, New York, where he is eventually diagnosed with the disease.
The movie then delves into the struggles that FDR and his family face as they try to come to terms with his illness. The movie portrays FDR's fight to regain his strength and to return to his political career. FDR's wife, Eleanor, is shown as a strong and supportive partner as she helps him through his difficult times with unconditional love and care.
As FDR recovers from his illness, he sets his sights on becoming President of the United States. The movie shows how FDR campaigned for the presidency in 1932 against Herbert Hoover during the midst of the Great Depression. The movie depicts the hardships of the Great Depression, including massive unemployment and poverty, while showcasing FDR's determination to help the American people through his speeches and policies.
Sunrise at Campobello also explores FDR's relationships with his family, particularly his mother, who disapproves of his political ambitions, and his children, who are both supportive and concerned for his health. Throughout the movie, FDR is shown as a man of resilience and bravery who never let his disability hold him back. He is portrayed as a leader who can inspire and bring out the best in those around him.
The movie highlights some of FDR's significant accomplishments during his tenure as President, including the New Deal, which provided jobs and economic support to Americans during the Great Depression, as well as the formation of the Social Security Administration, which provided retirement benefits for millions of Americans.
Sunrise at Campobello is a poignant depiction of one of America's most influential Presidents who faced immense physical and emotional challenges throughout his life. The movie shines a light on the power of resilience, determination and courage, and how one man's unwavering spirit could make a significant impact on the world.
Overall, Sunrise at Campobello is an inspiring and well-made movie that portrays FDR's rise to the presidency as a story of overcoming adversity and triumphing against all odds. The stellar performance by its cast, especially Bellamy's portrayal of FDR, is a testament to their talents and dedication to bringing history to life. This movie is a great tribute to one of America's most beloved Presidents and is a must-watch for anyone interested in American history, politics, and the human spirit.
Sunrise at Campobello is a 1960 drama with a runtime of 2 hours and 24 minutes. It has received mostly positive reviews from critics and viewers, who have given it an IMDb score of 6.8 and a MetaScore of 82.