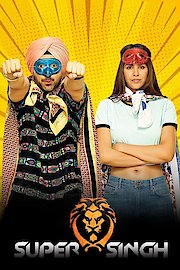 Watch Super Singh
"He will put Spiderman to shame"
Super Singh is a fun and entertaining Punjabi language superhero film directed by Anurag Singh and released in 2017. The film stars Diljit Dosanjh in the titular role of Super Singh, along with Sonam Bajwa and Pawan Malhotra in prominent roles. The story of the movie revolves around a young Punjabi man named Sajjan Singh (Diljit Dosanjh), who is a carefree and happy-go-lucky guy living in Canada. He enjoys his life, despite being unaware of his true identity as a superhero. One day, he discovers his powers and decides to use them for the greater good.
As Super Singh, Sajjan sets out to fight crime and save the world. His powers enable him to fly, become invisible, and shoot laser beams from his eyes. He soon gains a reputation as a savior and becomes a hero in the eyes of the people.
However, he also attracts the attention of a powerful villian named Bajwa (played by Yograj Singh), who wants to eliminate Super Singh and take over the world. Sajjan must use his wits, courage, and superpowers to defeat Bajwa and save the planet.
The film is a mix of action, drama, and comedy, with a generous dose of romance thrown in. It is a tribute to Punjabi culture and identity, with several Punjabi songs and references throughout. The chemistry between the lead pair of Diljit Dosanjh and Sonam Bajwa is excellent, adding to the film's charm.
The movie also features some impressive action sequences, including Super Singh's battle with Bajwa's henchmen and an epic finale where he faces off against the villain himself. The special effects used to create Super Singh's powers are also well-executed and add to the film's visual appeal.
The film's supporting cast, including Pawan Malhotra, Alexandra Bandean, and Navnindra Behl, also delivers convincing performances. Pawan Malhotra, in particular, stands out as the tough and no-nonsense father of Sajjan Singh, who disapproves of his son's carefree and irresponsible ways.
Overall, Super Singh is a delightful and entertaining movie that will appeal to Punjabi audiences worldwide. It is an excellent showcase for the talents of Diljit Dosanjh, who is one of the most popular and versatile actors in the Punjabi film industry. The film also addresses important themes like identity, purpose, and the power of love and friendship.
In conclusion, Super Singh is a must-watch for anyone who loves superhero movies or Punjabi cinema. It combines action, drama, and comedy in a unique and enjoyable way, making it a memorable and satisfying experience.