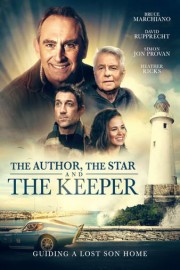 Watch The Author, The Star, and The Keeper
NR
2020
1 hr 48 min
The Author, The Star, and The Keeper is a heartwarming and inspiring film that came out in 2020. This movie is directed by Steven F. Zambo and stars Bruce Marchiano as The Keeper, Dale Waddington as The Author, and David Ruprecht as The Star. The story takes us on a journey with Joseph (Bruce Marchiano), who is a janitor at a small bookstore. Joseph has a heart for helping people, and he spends his days helping customers find the right books to read. His kindness and compassion make him a beloved figure in the community. One day, Joseph finds a manuscript lying on the floor of the bookstore. Intrigued by its contents, he starts to read it and is immediately captivated by the story.
The manuscript is a book that was written by a struggling author named Rachel (Dale Waddington). Rachel has always had a passion for writing, and she poured her heart and soul into this book. However, after receiving countless rejections, she lost hope and gave up on her dream.
Joseph recognizes the potential in Rachel's manuscript and becomes determined to help her get it published. He takes the book to a nearby publishing company where he meets The Star, played by David Ruprecht. The Star is a successful editor who only works with the biggest names in the industry. Joseph's persistence convinces The Star to read Rachel's book, and he too is moved by its contents.
As Rachel's book gains momentum, Joseph becomes a central figure in helping her navigate the world of publishing. He helps her with marketing and promotional events, and his unwavering support gives Rachel the confidence she needs to chase her dream.
Throughout the film, we see how Joseph's kindness, compassion, and faith impact everyone's lives. He is a shining example of how small acts of kindness can make a big difference in the world. The Author, The Star, and The Keeper is a heartwarming reminder that we should never give up on our dreams and that helping others can be the greatest reward of all.
The film's production values are incredibly high, with beautiful cinematography and excellent production design. The acting performances are superb, with Bruce Marchiano's portrayal of Joseph being particularly touching. The music also plays a significant role in the film, with soulful songs by Darlene Zschech and Travis Cottrell adding depth and emotion to the story.
Overall, The Author, The Star, and The Keeper is an inspiring film that will leave viewers feeling uplifted and encouraged to pursue their dreams. It is a must-watch for anyone who loves heartwarming stories filled with compassion, kindness, and faith.
The Author, The Star, and The Keeper is a 2020 drama with a runtime of 1 hour and 48 minutes. It has received mostly positive reviews from critics and viewers, who have given it an IMDb score of 7.2.