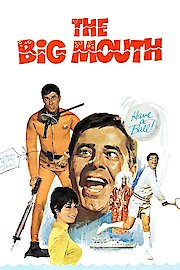 Watch The Big Mouth
"The Big Mob vs. The Big Mouth"
1967
1 hr 47 min
The Big Mouth is a 1967 comedy film directed by Jerry Lewis and starring himself, along with Harold J. Stone and Susan Bay Nimoy. The movie is known for its slapstick humor, over-the-top characters, and memorable musical score. The plot revolves around a bumbling 27-year-old named Gerald Clamson, played by Jerry Lewis, who inherits $350,000 from his late uncle. However, he soon discovers that the money was actually stolen from a gang of criminals, who are now after him to retrieve their loot. In order to avoid their wrath, Clamson goes into hiding with the help of his friend, Joe, played by Harold J. Stone.
As the duo try to evade the gangsters and unravel the mystery behind the missing money, they become entangled in a web of espionage and international intrigue. Along the way, they encounter a wealth of eccentric characters, including a sassy cab driver, a seductive spy, and a group of hippies.
Despite its zany premise, The Big Mouth touches upon some serious themes, such as greed, corruption, and the power of money. Lewis also employs his trademark physical comedy, including exaggerated facial expressions, pratfalls, and comic timing.
One of the standout features of the movie is its musical score, which was composed by the legendary jazz musician, Oliver Nelson. The score incorporates a wide range of musical styles, from swing to soul, and features performances by jazz luminaries such as Jimmy Smith and Phil Woods.
Overall, The Big Mouth is a fun, light-hearted romp that showcases Jerry Lewis at his comedic best. Its blend of humor, action, and music continues to make it a beloved cult classic more than 50 years after its release.
The Big Mouth is a 1967 comedy with a runtime of 1 hour and 47 minutes. It has received moderate reviews from critics and viewers, who have given it an IMDb score of 5.5.