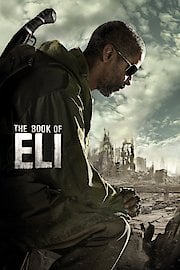 Watch The Book of Eli
"Some will kill to have it. He will kill to protect it."
R
2010
1 hr 58 min
53
The Book of Eli is a post-apocalyptic action-adventure film set in a world where a catastrophic event has wiped out the majority of the Earth's population. The story focuses on Eli (Denzel Washington), a lone traveler who is carrying a mysterious book that he believes holds the key to humanity's future. Eli is a man of few words and a master of survival. He is well-equipped to handle any threats that come his way, thanks to his incredible fighting skills and sharp intellect. He is known throughout the wasteland as a formidable warrior, and people fear and respect him in equal measure. As Eli travels through the desolate landscape, he encounters a young woman named Solara (Mila Kunis), who is in desperate need of his protection. She is being pursued by a group of ruthless bandits led by Carnegie (Ray Stevenson), who is also aware of the existence of the mysterious book and is determined to obtain it at all costs. Eli reluctantly takes Solara under his wing, and together they embark on a dangerous journey to reach their destination in the West. Along the way, they encounter numerous obstacles and enemies, including cannibals, marauders, and killers. As they travel, Eli begins to reveal more about himself and his mission. He is not merely a wanderer, but a man with a deeply held conviction about the importance of the book in his possession. He is willing to do whatever it takes to protect it, even if it means sacrificing his life. The Book of Eli is a powerful and thought-provoking film that explores themes of faith, sacrifice, and the resilience of the human spirit. It is a journey through a world where every day is a battle for survival, and the only hope for a better tomorrow lies in the hands of a lone warrior with a mysterious book. In conclusion, The Book of Eli is a must-see movie for fans of post-apocalyptic films and action-adventure genres. It is a thrilling ride that will keep you on the edge of your seat from start to finish, with a strong message about the value of faith and determination in the face of adversity.