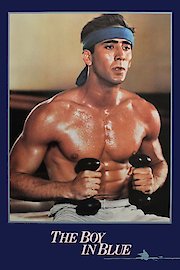 Watch The Boy in Blue
"Every era has it's own kind of hero."
R
1986
1 hr 40 min
30
In the mid-19th century, a young man named Ned Hanlan (played by Nicolas Cage) dreams of becoming a champion sculler. He lives in a small town in Canada and spends most of his time on the water, practicing rowing and racing against his friends. Ned is a natural athlete and his talent quickly catches the eye of a local businessman, Knox (played by David Naughton), who offers to sponsor him and help him train for bigger races. Ned leaves his hometown and travels to Toronto, where he meets the beautiful and stubborn Miss Daly (played by Cynthia Dale). Miss Daly is a schoolteacher who disapproves of Ned's rowdy lifestyle and wants him to focus on his studies. But Ned is determined to succeed as a sculler and he convinces Miss Daly to be his coach. Under Miss Daly's guidance, Ned trains harder than ever and develops a reputation as a fearless and daring rower. He becomes a local celebrity and attracts the attention of wealthy sportsman Coach Willoughby (played by Christopher Plummer), who offers him a chance to compete in the prestigious Henley Regatta in England. Ned jumps at the opportunity and travels to England, where he faces stiff competition from the best rowers in the world. He also begins to experience the darker side of the sport, as he is forced to deal with ruthless competitors, corrupt officials, and jealous teammates. Despite the challenges he faces, Ned remains determined to win the race and prove himself as a champion sculler. He also becomes romantically involved with a young Englishwoman named Edith (played by Glynis Barber), who supports him in his quest for glory. The Boy in Blue is a gripping drama that combines historical accuracy with thrilling sports action. Nicolas Cage delivers a standout performance as Ned Hanlan, bringing to life the character's ambition, courage, and determination. Cynthia Dale provides a strong contrast as Miss Daly, a no-nonsense teacher who is nevertheless compassionate and supportive of Ned's dreams. Christopher Plummer is also excellent as Coach Willoughby, a complex character who initially seems like a mentor to Ned but later reveals a darker side. Other standout performances include those by David Naughton as Knox, the businessman who first sees potential in Ned, and Glynis Barber as Edith, the woman who captures Ned's heart. Director Charles Jarrott creates a vivid and engaging portrait of life in the 19th century, taking viewers from the rugged coastline of Canada to the posh clubs and estates of England. The rowing scenes are particularly thrilling, with expertly choreographed sequences that capture the speed and power of the boats. The Boy in Blue also explores themes of class, ambition, and nationalism, as Ned competes not just against his fellow rowers but also against the expectations and prejudices of his society. The film raises important questions about what it takes to succeed in a competitive world, and whether the costs are truly worth it. Overall, The Boy in Blue is a compelling and emotionally resonant drama that will appeal to fans of historical epics, sports films, and Nicolas Cage's early work. It is a testament to the power of perseverance, the thrill of victory, and the importance of following one's passions, no matter how difficult the journey may be.