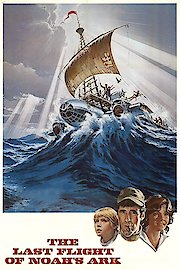 Watch The Last Flight of Noah's Ark
"Lost. 2,000 miles at sea in a 40 year old bomber."
G
1980
1 hr 37 min
Released on June 25, 1980 by Buena Vista, The Last Flight of Noah's Ark is a Disney film about a jaded pilot named Noah Dugan who gambles during his unemployed causing him to be in debt. Noah's friend Stoney offers him a job flying animals to a South Pacific island. Bernadette Lafleur is a polite, well polished missionary who accompanies Noah on the adventures. The plane wanders off course forcing Noah to crash on an uncharted island. The group meets two elderly Japanese holdout soldiers occupied the island 35 years. At first the guests were treated like enemies due to the fact the soldiers are unaware that World War II has ended. Bernadette quickly wins their trust and friendship. The plane was turned into a boat making it possible to sail away to civilization. Noah and Bernadette turn into love birds. The two had resented each other at first.