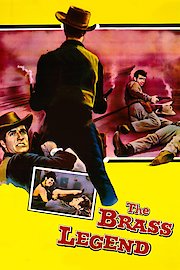 Watch The Brass Legend
"TV's Famous Wyatt Earp Blasts the Big Screen With Gun-Hot Savagery!"
Approved
1956
1 hr 19 min
This exciting Western concerns a tale of intrigue and vendetta in a small town. A youngster, Clay, goes horseback riding and stumbles across the hideout of a wanted murderer named Tris Hatten (played by Raymond Burr). He hurries back to town and reports his discovery to the Sheriff (Hugh O'Brian), who asks him to keep the information quiet for a while. When the youth tells his father, his parent distrusts the Sheriff's judgment. He leaks the story to the local paper instead hoping for a reward and soon alarm spreads through the community. Hatten's girlfriend then targets Clay for revenge.