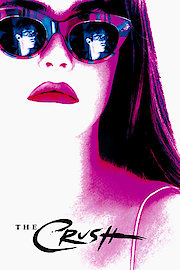 Watch The Crush
R
1993
1 hr 29 min
34
The Crush is a 1993 psychological thriller directed by Alan Shapiro and starring a young Alicia Silverstone as the disturbed 14-year-old Adrienne Forrester, who becomes infatuated with her tenant, Nick Eliot (Cary Elwes). The film also stars Jennifer Rubin as Nick's girlfriend, Amy. The movie takes place in a beautiful and affluent suburb of Seattle, where Nick, a handsome and successful writer, moves into a guest house owned by the wealthy and kind Cliff and Liv Forrester. Nick is immediately welcomed by the Forrester family, including their teenage daughter, Adrienne, who becomes fascinated with him from the moment she meets him.
As Nick settles into his new home, he begins to notice strange behavior from Adrienne. She starts leaving him gifts, professing her love for him, and making advances towards him. At first, Nick attributes this behavior to typical teenage crush, but as Adrienne's behavior becomes more obsessive and dangerous, he realizes that something more sinister is going on.
Adrienne becomes increasingly possessive and jealous of Nick's girlfriend, Amy, who she sees as a threat to her chances of being with Nick. She starts planting evidence to make it look like Amy is cheating on Nick, and also starts spreading rumors about her around town. Nick becomes increasingly worried for Amy's safety as Adrienne's obsession with him spirals out of control.
The tension and suspense in the film build as Adrienne's behavior becomes more and more dangerous, and both Nick and Amy realize that they are in extreme danger. As Nick tries to figure out a way to protect himself and Amy from Adrienne's wrath, he must also navigate the complex web of lies and deception that Adrienne has created.
The Crush is a well-crafted psychological thriller that features standout performances from the three leads. Silverstone's portrayal of the disturbed and dangerous Adrienne is particularly impressive given her young age at the time of filming. The film's themes of obsession, manipulation, and power dynamics make it a thought-provoking and gripping watch, that will leave viewers on the edge of their seats until the very end.
Overall, The Crush is a must-see for fans of psychological thrillers, and has earned its place as a cult classic in the genre.
The Crush is a 1993 drama with a runtime of 1 hour and 29 minutes. It has received mostly poor reviews from critics and viewers, who have given it an IMDb score of 5.8 and a MetaScore of 34.