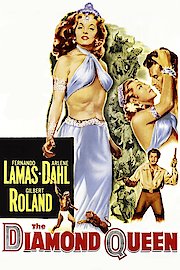 Watch The Diamond Queen
"Queen of a Jungle Dynasty but Slave of Love!"
Approved
1953
1 hr 20 min
The Diamond Queen is a 1953 starring Fernando Lamas, and was produced by the Melson Productions company based in the United States. The film was directed by John Brahm, giving it some sense of direction in an attempt to secure it a good rank among other films during that period. The film runs for 80 minutes and is produced in English. Jean Baptiste Tavernier is caught leering at a woman while she was bathing, and as a result of this, he is arrested and imprisoned by the guards of the King. The film is distributed by Warner Bros and boasts of getting sales from all over the world.