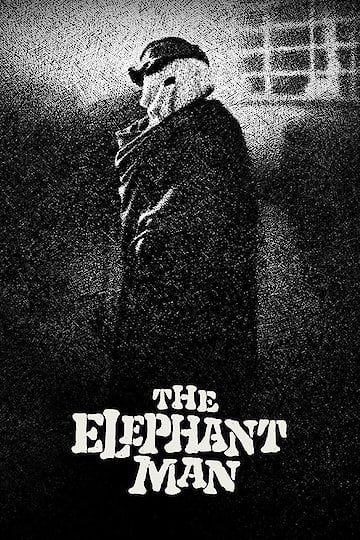 Watch The Elephant Man
"I am not an animal! I am a human being! I … am … a man!"
PG
1980
2 hr 4 min
78
The Elephant Man is a historical drama film from 1980, directed by David Lynch and based on the real-life story of Joseph Merrick (played by John Hurt), a severely disfigured man who lived in London during the late 19th century. The movie starts with a young doctor named Frederick Treves (Anthony Hopkins) attending a freak show in London, where he encounters Merrick, who is billed as the Elephant Man due to his physical appearance. Treves is shocked and intrigued by Merrick's condition and decides to rescue him from the deplorable conditions of the freak show.
As Treves starts to examine Merrick, he discovers that his disfigurement is due to a rare disease called neurofibromatosis, which causes massive tumors to grow throughout his body, including his face, neck, and arms. Merrick's condition makes it difficult for him to speak, move, or even breathe properly, and he has suffered from physical and emotional abuse throughout his life due to his appearance.
Moved by Merrick's plight, Treves decides to bring him to the London Hospital to provide him with proper medical care and shelter. As he spends more time with Merrick, Treves discovers that beneath his disfigured exterior lies a kind and intelligent person who loves literature, music, and art. With Treves' help, Merrick starts to socialize and interact with people, and eventually becomes an attraction in the upper-class circles of Victorian society.
Despite his newfound popularity, Merrick remains a lonely and isolated figure, who is constantly reminded of his condition and the limitations it imposes on his life. He finds solace in the company of a famous actress named Mrs. Kendal (Anne Bancroft), who befriends him and treats him with kindness and respect, rather than pity or contempt.
Throughout the movie, we see Merrick facing various challenges and obstacles, as he struggles to come to terms with his identity and his place in society. He is used and abused by people with various agendas, ranging from the freak show owners who exploit his condition for profit, to the high-society elites who treat him as a curiosity and an object of fascination.
The movie is a poignant portrayal of the human condition, and explores themes such as beauty, empathy, compassion, and prejudice. It showcases the cruelty and kindness that can coexist within human nature, and provides an unflinching look at the darker side of Victorian society, with all its class divisions, hypocrisy, and exploitation.
The Elephant Man is a powerful and moving film that has resonated with audiences for decades. Its stunning cinematography, haunting music, and memorable performances have earned it critical acclaim and numerous awards, including eight Academy Award nominations.
The movie has been praised for its sensitive and nuanced portrayal of a complex and tragic character, and for its ability to evoke empathy and compassion in the viewer. It has also been criticized for its occasional deviations from historical accuracy and for its romanticized view of Victorian society.
Overall, The Elephant Man is a masterpiece of film-making, and a classic that deserves to be seen and appreciated by generations to come for its timeless message of the beauty and dignity of the human spirit.
The Elephant Man is a 1980 drama with a runtime of 2 hours and 4 minutes. It has received mostly positive reviews from critics and viewers, who have given it an IMDb score of 8.2 and a MetaScore of 78.