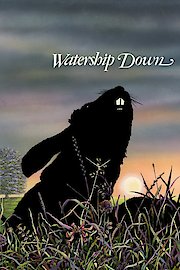 Watch Watership Down
"All the world will be your enemy, Prince with a Thousand Enemies, and when they catch you, they will kill you... but first they must catch you."
PG
1978
1 hr 33 min
64
Watership Down is a 1978 animated adventure drama film based on the novel of the same name by Richard Adams. The film features an all-star British voice cast that includes John Hurt, Richard Briers, and Ralph Richardson. The story follows a group of rabbits who must leave their warren due to a vision that one of them had of destruction and death. The rabbits embark on a dangerous journey to find a new home and encounter many challenges and obstacles along the way.
The lead character of the film is Hazel, voiced by John Hurt, who is the leader of the rabbits. He is joined by his friend Fiver, voiced by Richard Briers, who has visions of the future and is the one who warns the other rabbits of the impending danger. The group also includes Bigwig, voiced by Michael Graham Cox, who is a strong and brave rabbit, and Blackberry, voiced by Simon Cadell, who is intelligent and resourceful.
Throughout their journey, the rabbits have to face off against several threats, including predators like foxes and owls, and the brutal and tyrannical General Woundwort, voiced by Harry Andrews. They also have to contend with rival rabbit warrens, including one led by the seductive and manipulative doe, voiced by Hannah Gordon.
The film's themes include the importance of leadership, friendship, and loyalty, as well as the dangers of greed and selfishness. The film also explores the relationship between humans and nature and touches on environmental issues such as the destruction of habitats.
The animation in Watership Down is stunning and features detailed and intricate hand-drawn backgrounds and character designs. The landscapes look beautiful, and the use of lighting and shadow adds depth and atmosphere to the scenes.
The film's score, composed by Angela Morley, adds to the atmosphere of the film and is both haunting and beautiful. The score combines orchestral pieces with traditional folk music, and the result is a soundtrack that perfectly captures the spirit and tone of the film.
Overall, Watership Down is a timeless classic that has captured the hearts of audiences since its release in 1978. The story of Hazel and his friends is both exciting and emotional, and the film's themes of friendship, loyalty, and leadership are still relevant today. The animation is beautiful, and the voice cast is outstanding, making Watership Down a must-see for fans of animated cinema.
Watership Down is a 1978 adventure movie with a runtime of 1 hour and 33 minutes. It has received moderate reviews from critics and viewers, who have given it an IMDb score of 7.6 and a MetaScore of 64.