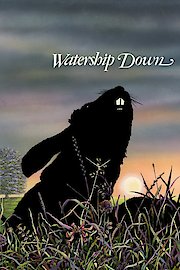 Watch Watership Down
"All the world will be your enemy, Prince with a Thousand Enemies, and when they catch you, they will kill you... but first they must catch you."
PG
1978
1 hr 33 min
64
This is the story of animals who build a hierarchy to protect themselves from other animals and humans. The gentle spirit of a group of rabbits escaping certain destruction goes up against the fearsome police state of another group of rabbits and wins their freedom. The film is animated and voiced by Ralph Richardson, John Hurt and Richard Briers. Hazel and his younger brother Fiver have lived in Sandleford all their lives. Fiver is a seer, who has a dream one night regarding the destruction of Sandleford. Humans were going to subdivide the land and build upon it. They would gas the rabbits out of their warren. Hazel and a few others believe Fiver and plans to leave begin. Hazel trusts Fiver to lead the small group to a safe place. Along the way, hunters prey upon the small animals. They find and liberate hutch rabbits, recognizing the need for females with which to mate. The animals escape dogs, foxes and humans bent on their capture. After Hazel's group escapes and have made it half to their destination, a few of the rabbits who escaped Sandleford's destruction catch up to them. They are sorely wounded, but they join in the immigration. Together, they plan on infiltrating a strictly policed warren to liberate more females. A battle ensues when the police report to the chief rabbit what has happened. Hazel's group of runaways fight valiantly. The chief rabbit of the police state is destroyed. The rabbits then move on to the safe haven Fiver has foreseen. Interspersed with daring escapes and rescues, threaded among infiltration and fights is stories of the Great Rabbit spirit who guides and watches over all rabbits. Hazel is a master storyteller. When the rabbits are at peace and feel safe enough to feed in the twilight, Hazel tells stories of daring escapades by the Great Rabbit. One night, safe in the new warren with everyone prospering, Hazel becomes the Great Rabbit.