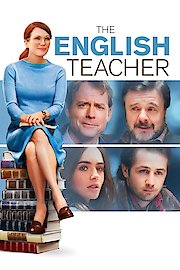 Watch The English Teacher
"Refuse To Live Life By The Book"
R
2013
1 hr 33 min
42
The English Teacher is a film following the story of Linda Sinclair (Julianne Moore), a forty year old, never married high school English teacher in Pennsylvania. While she shares her heart with no man, she has two cats and her love for literature. While her life is very dull, she finds that her life turns a new page when a former student, Jason Sherwood (Michael Angarano) finds himself back home after being a failed playwright in New York. Jason introduces Linda to a new love, his play that he dedicated his last years to. Though he has a dream, his overbearing Father believes that it is time to give up the dream and follow his suggestion to law school. Linda can't stand the thought of him giving up on his dream and helps him to find a way to make the play work for the both of them, while possibly connecting the two with more than just a play.