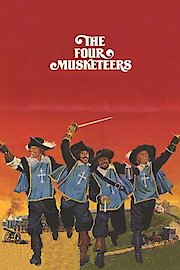 Watch The Four Musketeers
"What could be better than The Three Musketeers?"
PG
1975
1 hr 48 min
The Four Musketeers is a classic adventure movie released in 1974, directed by Richard Lester and based on the novel "The Three Musketeers" by Alexandre Dumas. The film stars Michael York as D'Artagnan, Oliver Reed as Athos, Frank Finlay as Porthos, and Richard Chamberlain as Aramis, while Raquel Welch plays the seductive Lady de Winter.
The story follows D'Artagnan, a young and ambitious swordsman who travels to Paris to fulfill his dream of becoming a musketeer. On his way to the city, D'Artagnan makes enemies with the musketeers Athos, Porthos, and Aramis, but the four soon become allies when they discover a plot to overthrow the king and queen of France.
The main antagonist of the story is Cardinal Richelieu, played by Charlton Heston. Richelieu is a manipulative and power-hungry figure who plots against the royal family and uses Lady de Winter as his weapon. Lady de Winter is a seductive spy who works for Richelieu, but her loyalty becomes divided when she falls in love with D'Artagnan.
The film is filled with action-packed sword fights, daring escapes, and humorous banter between the musketeers. Michael York delivers a charismatic performance as D'Artagnan, portraying him as a brave and loyal hero who is not afraid to stand up to the greatest dangers to protect his country and his friends.
Raquel Welch is stunning as Lady de Winter, playing the part of a femme fatale who is torn between her loyalty to Richelieu and her love for D'Artagnan. She delivers a nuanced and complex performance, conveying a sense of vulnerability and sadness beneath her seductive exterior.
The chemistry between the four musketeers is also a highlight of the film. Oliver Reed, Frank Finlay, and Richard Chamberlain deliver excellent performances, portraying their characters as distinct individuals with their own personalities and quirks. Their camaraderie is both entertaining and touching, as they stand up for each other and face danger together.
The film features stunning locations and sets, including medieval castles, lush forests, and Parisian streets. The costumes are also noteworthy, with the musketeers sporting their iconic hats and swords, and Lady de Winter wearing extravagant dresses that accentuate her beauty and allure.
The cinematography of the film is excellent, with Richard Lester employing innovative camera techniques to capture the action and create a sense of immediacy and excitement. The fight scenes are choreographed with precision, and the use of slow motion and close-ups adds to the drama and intensity of the action.
The Four Musketeers is a thrilling and enjoyable adventure movie that captures the essence of Alexandre Dumas' classic novel. It is a testament to the enduring appeal of the musketeers, and a must-watch for fans of swashbuckling tales, action movies, or period dramas.
The Four Musketeers is a 1975 action movie with a runtime of 1 hour and 48 minutes. It has received mostly positive reviews from critics and viewers, who have given it an IMDb score of 6.9.