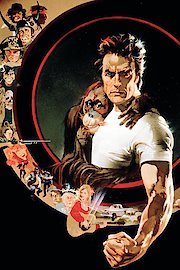 Watch Every Which Way but Loose
"Clint Eastwood will turn you Every Which Way But Loose"
PG
1978
1 hr 54 min
41
"Every Which Way but Loose" is a classic comedy movie that centers around a truck driver in California named Philo Beddoe. When he's not driving a truck Philo participates in bare-fisted boxing matches and hangs out with his pet orangutan. Basically Philo is a nice guy who sometimes finds himself in situations where he has to fight his way out. The character of Philo is played by Clint Eastwood. Philo's neighbor and good friend Orville acts as Philo's manager in the boxing matches that he fights in. Orville is played by Geoffrey Lewis. A very intelligent orangutan named Clyde is Philo's pet and companion. Clyde has a great sense of humor and is quite playful. After Philo meets a country singer played by Sondra Locke at a nightclub he falls in love with her. The singer is named Lyn and she lives in a camper. Philo and the singer develop a good relationship but all of a sudden she takes off to go back to Colorado where she is from. Philo decides to drive to Colorado to see Lyn and he brings Clyde and Orville along for the ride. They encounter a motorcycle gang that wants to start trouble and also meet up with a sheriff who strongly dislikes Philo. Among the other cast members in "Every Which Way but Loose" are Roy Jenson, Walter Barnes, Ruth Gordon, John Quade, Bill McKinney and Dan Vadis. The running time of this movie is approximately an hour and a half. It was directed by James Fargo and was produced by Robert Daley.