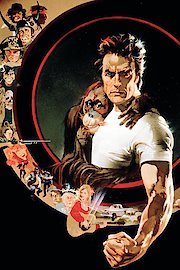 Watch Every Which Way but Loose
"Clint Eastwood will turn you Every Which Way But Loose"
PG
1978
1 hr 54 min
41
Every Which Way but Loose is a 1978 comedy film directed by James Fargo and starring Clint Eastwood, Sondra Locke, and Geoffrey Lewis. The movie follows the adventures of Philo Beddoe (Eastwood), a truck driver and bare-knuckle fighter who travels around California with his sidekick Orville (Lewis) and his pet orangutan named Clyde, who is trained to pick pockets. The movie begins with Philo winning a bare-knuckle fight against a larger opponent. Afterward, the trio drives to a local bar where Philo becomes smitten with a country singer named Lynn Halsey-Taylor (Locke). Philo convinces her to accompany him on his travels, even though Lynn already has a boyfriend who is a member of a rival bare-knuckle fighting gang. As they travel through California, Philo and Orville get into various scrapes and encounters with law enforcement, rival gangs, and some questionable characters. Along the way, they also encounter characters like a group of bikers and a group of evangelical Christians who help to add to the movie's comedic climate. Meanwhile, Philo keeps trying to win over Lynn, even though she is still with her boyfriend, and they continue to be pursued by the rival gang for various reasons. However, the climax of the story pits Philo against the leader of the rival gang in a high-stakes bare-knuckle fight, with Lynn watching on from the sidelines. The outcome of the fight decides the fate of Philo and Lynn's relationship. The film showcases Clint Eastwood's comedic skills as well as his fighting abilities, and his chemistry with both Sondra Locke and Geoffrey Lewis is spot on. The movie also boasts an excellent soundtrack with several songs from popular country artists, including Lynn Anderson and Mel Tillis. Overall, Every Which Way but Loose is an entertaining comedy that keeps the audience engaged from start to finish. It has action, adventure, comedy, romance, and great performances from the entire cast. The orangutan Clyde also adds an interesting and unique facet to the story, making it stand out from other contemporary comedies. In summary, Every Which Way but Loose is a lighthearted, entertaining movie that showcases Clint Eastwood's range as an actor. It's a must-see for fans of his work, and for anyone looking for a good laugh.