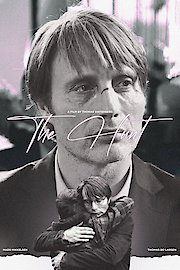 Watch The Hunt
"The lie is spreading."
R
2013
1 hr 46 min
77
The Hunt is a Danish drama film, released in 2012, directed by Thomas Vinterberg starring Mads Mikkelsen, Thomas Bo Larsen, and Annika Wedderkopp in lead roles. The movie is a tale of an innocent man, who becomes a victim of false accusations. The story revolves around Lucas (Mads Mikkelsen), a kind-hearted man who lives in a small town in Denmark. Lucas is a preschool teacher, loved by his students and is appreciated by his colleagues. He is going through a divorce and is trying to rebuild his life. Lucas is a friendly and social person and has a good reputation in his community.
However, things take a dark turn when one of his students, a little girl named Klara (Annika Wedderkopp), accuses him of inappropriate behavior. The young girl, who has a crush on Lucas, says that he exposed himself to her during a hunting trip. Her testimony immediately provokes suspicion and outrage from Lucas's colleagues and the parents of the other children in the school.
The situation is exacerbated by the fact that Klara's mother, who is struggling with a personal issue of her own, takes Klara's word as the truth and informs other parents. In no time, the entire town is turned against Lucas, and he is ostracized and threatened by people who he once considered friends. His life is shattered, and he becomes a target of hatred and violence.
Despite his unwavering innocence, Lucas is subjected to a series of horrific events, which include brutal beatings, vandalization of his house, and even attempted murder. He is treated as an outcast and is not allowed to enter the grocery store or the church. Even his son is not spared from the societal stigma attached to him, and he is told to stay away from his father.
The Hunt is a gripping and emotional tale that explores the dangerous impact of false accusations, and how people's lives can be destroyed in a moment. The movie raises pertinent questions on the accountability of our society, which is quick to judge without examining the facts.
Mads Mikkelsen's performance in The Hunt is exceptional, as he brilliantly portrays Lucas's anguish, frustration, and hopelessness. The innocence and pain in his eyes are gripping and will undoubtedly leave an indelible impression on the audience's minds.
The director, Thomas Vinterberg, has crafted a thought-provoking and poignant movie, which successfully depicts the vulnerability of people in a small community. The film showcases how a little lie can go a long way and how people's lives can be irreversibly damaged as a result. It highlights the intricacies of human behavior, especially when people are subjected to mob mentality and panic.
In conclusion, The Hunt is an intense and unflinching movie that explores the deep-rooted fears, anxieties, and prejudices of our times. The performances, direction, and storytelling are compelling, making it a must-watch for lovers of edge-of-the-seat dramas. The movie serves as a powerful reminder that we should never let our prejudices get in the way of seeking the truth and justice.
The Hunt is a 2013 drama with a runtime of 1 hour and 46 minutes. It has received mostly positive reviews from critics and viewers, who have given it an IMDb score of 8.3 and a MetaScore of 77.