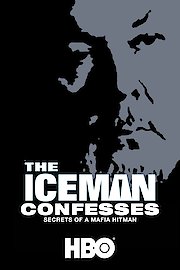 Watch The Iceman Confesses: Secrets of a Mafia Hitman
"He's killed over 125 people, one at a time... sometimes just for practice."
TV-MA
2001
43 min
The Iceman Confesses: Secrets of a Mafia Hitman from 2001 is a documentary-style film that follows the life story of Richard Kuklinski, a notorious hitman who had worked for the Mafia in the 1960s and 70s. Directed by Arthur Ginsberg and produced by HBO, the film features interviews with Kuklinski himself, as well as his wife and daughters, FBI agents, prosecutors, and other law enforcement officials. Mark Musto plays Kuklinski in recreated scenes, but the majority of the film consists of Kuklinski's own accounts of his life and crimes. He describes his early childhood in Jersey City, New Jersey, where he was raised by an abusive father and a mother who often turned a blind eye to her husband's violent ways. Kuklinski speaks candidly about the horrific abuse he suffered at the hands of his father, and how it fueled his own violent tendencies later in life. As a young man, Kuklinski started out as a small-time thief, but he quickly graduated to more serious crimes after he was recruited by Roy DeMeo, a New York City organized crime figure. DeMeo took a liking to Kuklinski and soon put him to work as a hitman. Kuklinski's reputation as a stone-cold killer began to grow as he carried out murders for the Gambino crime family and other mafia groups. Throughout the film, Kuklinski shows no remorse for his crimes, and even seems to take pride in some of the more gruesome murders he committed. He talks about using a variety of techniques to kill his victims, including guns, knives, and even cyanide. Kuklinski claims to have killed over one hundred people during his career as a hitman, although law enforcement officials believe the number may be closer to thirty. The film also delves into Kuklinski's personal life, including his relationship with his wife and children. Kuklinski's wife knew nothing of his criminal activities for many years, and he was able to maintain a semblance of normalcy in his home life despite his violent tendencies. However, Kuklinski's two daughters describe their father as a terrifying presence in their household, prone to sudden fits of rage that left them frightened and traumatized. One of the more intriguing aspects of the film is the way in which Kuklinski describes his own psychology. He talks about enjoying the act of killing, but also admits that he was motivated by a desire for power and respect from his peers in the Mafia. Kuklinski also claims to have felt no emotion during his murders, and that he was able to compartmentalize his violent acts from the rest of his life. Overall, The Iceman Confesses: Secrets of a Mafia Hitman is a harrowing look at the life and crimes of one of the most notorious hitmen in American history. The film is shot in a straightforward style that allows Kuklinski's own words to take center stage, and viewers are left to make up their own minds about the veracity of his accounts. While it's not for the faint of heart, The Iceman Confesses offers a fascinating glimpse into the dark underbelly of organized crime and the human psyche.