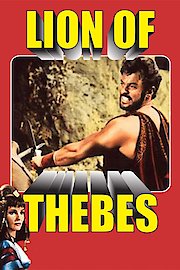 Watch The Lion of Thebes
NR
1964
1 hr 29 min
The film The Lion of Thebes, released in 1964, is a sword-and-sandal epic that follows the story of the Greek hero and king of Thebes, Hercules. In this film, Hercules is portrayed by actor Mark Forest, known for his roles in other films of the same genre, such as Goliath and the Sins of Babylon. Set in ancient Greece, the story begins with the Thebans, who are threatened by the invading army of the Thracian king, Dorikos, played by actor Massimo Serato. The Thracians, led by Dorikos, are determined to conquer Thebes and enslave its people. However, the Thebans, under the guidance of their rightful king, Amphitryon, played by actor Alberto Lupo, refuse to be defeated.
Meanwhile, Hercules, who has been banished from his home after killing his wife and children in a fit of madness, arrives in Thebes. He is seeking redemption, and his courage and strength make him the only hope for the struggling Thebans. Against all odds, Hercules takes charge of the situation and leads the Thebans in a battle against the Thracians.
Alongside Hercules is Creon, played by actor Pierre Cressoy. Creon is the loyal friend of Hercules, and his intellect complements Hercules' brute strength. Creon is also the romantic interest of the Theban princess, Antiope, played by actress Yvonne Furneaux. Antiope is a strong-willed and brilliant woman who becomes smitten with Hercules, despite Creon's feelings for her.
The film is filled with epic battle scenes, including a climactic final battle between Hercules and Dorikos, which is set against the backdrop of Thebes. The film also features stunning sets and vividly colorful costumes that immerse the viewer in the ancient world of Greece.
The Lion of Thebes is a classic sword-and-sandal film that encapsulates the spirit of the genre. It portrays the heroism and bravery of ancient Greek warriors, and highlights the hope and determination of people who fight to overcome oppression. The film also features a charismatic hero in Mark Forest's portrayal of Hercules, and a dynamic supporting cast, including Furneaux, Serato, and Lupo.
Despite being released over fifty years ago, The Lion of Thebes still has a lasting impact on the sword-and-sandal genre, and is an excellent example of classic Hollywood storytelling. It's a film that is sure to entertain audiences of all ages and continues to be a beloved classic.
The Lion of Thebes is a 1964 drama with a runtime of 1 hour and 29 minutes. It has received moderate reviews from critics and viewers, who have given it an IMDb score of 5.1.