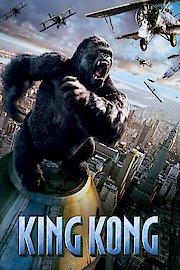 Watch King Kong
"The eighth wonder of the world."
PG-13
2005
3 hr 7 min
81
In Peter Jackson's 2005 version of King Kong, the story follows Ann Darrow (Naomi Watts), a struggling actress during the Great Depression who is hired by ambitious filmmaker Carl Denham (Jack Black) to star in his new film venture. Denham and his crew set sail for a mysterious, uncharted island known as Skull Island, where they hope to capture images of exotic animals and unleash the ultimate movie monster.
Upon arriving on Skull Island, the crew discovers a tribe of natives who offer up Darrow as a sacrifice to their protector, a massive gorilla named Kong. Kong becomes infatuated with Darrow, and the two form a bond as she begins to see his gentle side. However, when the crew captures Kong and brings him back to New York City, he breaks free from captivity and rampages through the city in search of Darrow.
Meanwhile, a love triangle begins to develop between Darrow, Denham, and playwright Jack Driscoll (Adrien Brody), who wrote the script for Denham's film and has a deep affection for Darrow. As Kong wreaks havoc on the city, Darrow and Driscoll attempt to save him and bring him back to Skull Island.
Overall, King Kong is a thrilling and visually stunning adventure film that expertly balances action, humor, and heart. The film's impressive special effects bring Kong to life in a way that is both terrifying and beautifully rendered, and the performances from the cast, particularly Naomi Watts, are top-notch. The film also expertly explores themes of power, exploitation, and the bond between humans and animals.
In conclusion, King Kong is a must-see film for fans of thrilling adventure stories and impressive visual effects. Its timeless story and expert execution make it a classic film in the genre.
King Kong is a 2005 adventure movie with a runtime of 3 hours and 7 minutes. It has received mostly positive reviews from critics and viewers, who have given it an IMDb score of 7.2 and a MetaScore of 81.