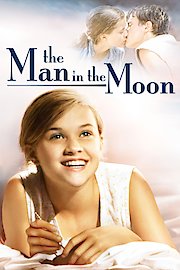 Watch The Man in the Moon
"Remember when you couldn't wait for your life to begin... and then, one day, it did?"
PG-13
1991
1 hr 39 min
73
The Man in the Moon is a 1991 coming-of-age drama film set in rural Louisiana in the late 1950s. The story centers around a 14-year-old girl named Dani Trant (played by Reese Witherspoon in her debut role) who experiences love, friendship, and loss as she navigates the complexities of growing up. The film features several notable performances, including Sam Waterston as Dani's father, Matthew, Tess Harper as her mother, Abigail, and Gail Strickland as her older sister, Maureen. Together, they create a poignant portrait of a family grappling with the challenges of rural life in the Deep South. Throughout the film, we see Dani struggling to find her place in the world. She is torn between her desire to be seen as an adult and her longing for the carefree innocence of childhood. When she meets a handsome farm boy named Court (played by Jason London), she falls head over heels in love for the first time. However, their romance is complicated by Maureen's own feelings for Court, and the ensuing love triangle has far-reaching consequences for all involved. As the story unfolds, a tragic event tears apart Dani's family and leaves her struggling to come to terms with her grief. The film explores themes of loss, forgiveness, and the fleeting nature of youth, evoking a sense of nostalgia for a simpler time when life seemed less complicated. One of the standout aspects of The Man in the Moon is its attention to detail in recreating the period setting. The film's cinematography captures the lush, sprawling landscapes of rural Louisiana, while the music and fashion choices transport the audience back to the late 1950s. The film also features a memorable soundtrack, with songs by artists like Patsy Cline and Ricky Nelson. Overall, The Man in the Moon is a poignant and emotionally resonant film that explores the complexities of growing up in a rural Southern community. With strong performances, beautiful cinematography, and a powerful soundtrack, it remains a beloved classic of the coming-of-age genre.