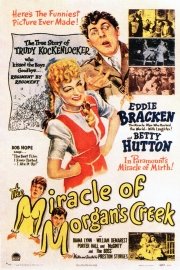 Watch The Miracle of Morgan's Creek
Approved
1944
1 hr 38 min
86
The Miracle of Morgan's Creek is a classic comedy movie from 1944 directed by Preston Sturges, starring Eddie Bracken, Betty Hutton, and Diana Lynn. The film was released during World War II and is considered one of the best comedies of the era. The movie follows the story of Trudy Kockenlocker (Betty Hutton), a young woman living in the town of Morgan's Creek, who gets herself into a scandalous situation. After a night of partying and celebrating, Trudy wakes up to find herself married to a soldier, but she can't remember his name or where he came from. To make matters worse, Trudy discovers that she's pregnant with his child, and her strict father is adamant that she must be wed before the baby is born.
Confused, desperate, and unsure of what to do, Trudy turns to her best friend Norval Jones (Eddie Bracken), a hapless and awkward young man who's infatuated with her. With Norval's help, Trudy comes up with a plan to find out who the mystery soldier is and get him to marry her before her father finds out about her pregnancy.
The film's plot is a mix of slapstick comedy, farce, and screwball humor, and the characters are all quirky and exaggerated. Betty Hutton's performance as Trudy is energetic and full of life, capturing the essence of a young woman who's both innocent and headstrong. Eddie Bracken, on the other hand, plays the role of the bumbling and clumsy Norval to perfection, making the character both hilarious and endearing.
The Miracle of Morgan's Creek is also notable for its satirical take on small-town America during the war years. The movie portrays the town of Morgan's Creek as a close-knit community where gossip and scandal are part of daily life. The film also pokes fun at the military, portraying the soldiers stationed in the town as energetic and rowdy, always looking for a good time.
All in all, The Miracle of Morgan's Creek is a charming and entertaining movie that showcases the talents of its cast and director. The film's irreverent and witty humor, combined with its playful take on small-town life, make it a classic of the genre. With its memorable one-liners and zany characters, The Miracle of Morgan's Creek is a must-see for fans of classic comedy movies.
The Miracle of Morgan's Creek is a 1944 comedy with a runtime of 1 hour and 38 minutes. It has received mostly positive reviews from critics and viewers, who have given it an IMDb score of 7.6 and a MetaScore of 86.