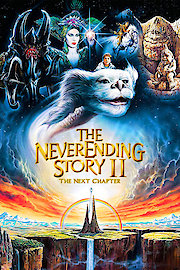 Watch The NeverEnding Story II: The Next Chapter
"Begin an all new adventure as a young boy returns to a world of wonder on the wings of his imagination."
PG
1991
1 hr 29 min
30
Bastian Bux misses his father. He feels unloved and unappreciated by him. He wanders into a bookstore and picks up a book with a familiar picture on its cover. He hears once again that he is needed to help save Fantasia. He inadvertently lands once again in "never ending story" and meets an old friend Atreyu. This time he has to face the emptiness inside and fight to regain his memory of all the good times before Fantasia disappears forever.