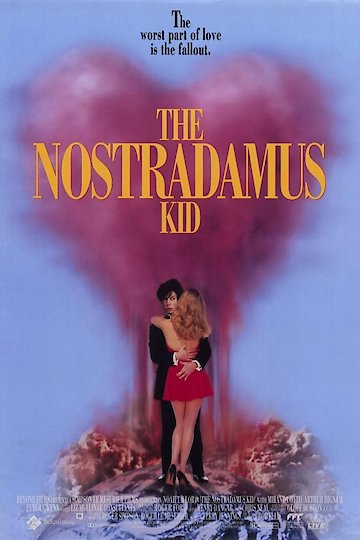 Watch The Nostradamus Kid
"The worst part of love is the fallout"
The Nostradamus Kid, a 1993 film directed by Bob Ellis, is a coming-of-age story set in the late 1960s in Australia. The movie follows Ken Elkin (Noah Taylor), a sixteen-year-old boy who is growing up in a conservative family in rural Australia. Ken is a troubled youth who is struggling with his sexual identity and is unable to make any meaningful connections with people around him. He is an outcast and a loner who spends most of his time scribbling his apocalyptic visions in his notebook.
One day, Ken's life takes an unexpected turn when he meets the beautiful, free-spirited Judy (Miranda Otto) at a local swimming pool. Judy is a young woman who embodies the counter-culture movement of the 1960s – she is politically active and is always questioning the status quo. She and Ken quickly form a bond, and she introduces him to a world he has never known before. Together, they smoke marijuana, attend anti-war rallies, and listen to music.
The movie explores Ken's relationship with Judy, his family, and his own identity. Through Ken's musings and self-reflection, we see him struggling to reconcile his conservative upbringing with his newfound desire for liberty and self-expression. He tries to find his place in the world, and in doing so, he begins to challenge the beliefs of his family and the society around him.
The Nostradamus Kid is a thoughtful and introspective film that explores complex themes of identity, sexuality, and rebellion. It is a nuanced depiction of a time and a place where young people were seeking change and a new way of life. The movie beautifully captures the spirit of the 1960s and the counterculture movement, without over-sentimentalizing it.
One of the strengths of the movie is the excellent performances by its cast. The young Noah Taylor delivers an outstanding performance as Ken. He brings a depth and complexity to the character, and we empathize with his struggles as he tries to find his way in the world. Miranda Otto is equally impressive as Judy. She embodies the spirit of the 1960s counterculture movement in a way that feels authentic and genuine.
The film also boasts beautiful cinematography that captures the lovely Australian countryside and the picturesque town where much of the story takes place. The soundtrack is also a standout feature of the movie, featuring music by Bob Dylan, The Rolling Stones, and other iconic artists from the 1960s.
Overall, The Nostradamus Kid is a well-crafted and thought-provoking film that explores complex themes of identity, sexuality, and rebellion. It is a coming-of-age story that feels both timeless and deeply rooted in its particular time and place. The film is a reminder of the power of cinema to capture the essence of a moment in time and to shed light on the complexities of the human experience.