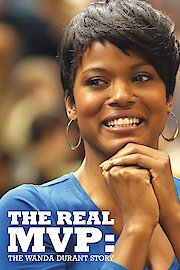 Watch The Real MVP: The Wanda Durant Story
TV-PG
2016
1 hr 25 min
The Real MVP: The Wanda Durant Story is a biographical drama film released in 2016. The movie portrays the life of Wanda Durant, the mother of NBA superstar Kevin Durant. Wanda Durant is a strong and independent woman who raised her children as a single mother. The story begins in a small Maryland town where Wanda (played by Cassandra Freeman) is raising her two sons, Kevin (Eli Baxter) and Tony (Daniel Bellomy). Wanda works hard to provide for her family, working long hours at a factory to make ends meet. Despite the tough circumstances, she instills in her children the importance of hard work and perseverance.
The film then follows the rise of Kevin Durant as a high school basketball star. As he gains more attention from college recruiters, Wanda realizes that this could be her son's ticket to a better life. She encourages Kevin to pursue his dream of playing basketball and supports him every step of the way. However, tragedy strikes when Wanda is diagnosed with cancer, leaving her unable to work and support her family.
Despite this setback, Wanda's resilience and determination keep her going. She is determined to beat cancer and see her son succeed. The movie portrays Wanda's struggles with chemotherapy and the emotional toll it takes on her and her family. She is a strong-willed woman who refuses to let her illness define her.
The Real MVP also shows the challenges that Kevin faces as a young athlete. He is constantly in the spotlight and under pressure to perform. His relationship with his mother is a key part of the story, as she is his biggest supporter and source of inspiration.
The film also delves into Wanda's relationship with her own mother, who is a strict and traditional woman. Wanda rebels against her mother's expectations and pursues her own dreams, ultimately becoming a successful businesswoman.
The Real MVP is a heartwarming film that celebrates the power of love and resilience in the face of adversity. It is a tribute to Wanda Durant's strength and determination, as well as a testament to the bond between a mother and son. The performances by the cast, especially Cassandra Freeman as Wanda, are outstanding and bring the characters to life.
Overall, The Real MVP: The Wanda Durant Story is a must-watch for fans of biographical dramas and sports films. It offers a glimpse into the life of one of the most influential women in basketball and showcases the power of a mother's love.
The Real MVP: The Wanda Durant Story is a 2016 drama with a runtime of 1 hour and 25 minutes. It has received moderate reviews from critics and viewers, who have given it an IMDb score of 5.8.