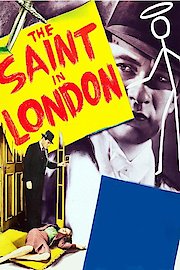 Watch The Saint in London
"He's at it again! Fiction's fighting man of mystery! Chasing down the most dramatic crime in London legend! Shock-charged drama--with a peppery bit of love on the side! You'll laugh--shiver--THRILL!"
Passed
1939
1 hr 12 min
Private detective Simon Templar, aka the Saint (George Sanders), heads home to London, where he enlists the help of ex-pickpocket Dugan (David Burns) and socialite Penny Parker (Sally Gray) in investigating a gambler named Bruno Lang (Henry Oscar), who might be involved in a counterfeiting racket. Things get more complicated as the group uncovers a scheme involving the kidnapping of a count named Duni (John Abbott), and Scotland Yard's suspicious Inspector Teal (Gordon McLeod) gets involved.