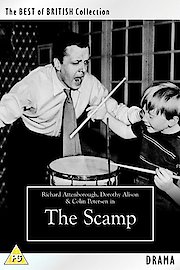 Watch The Scamp
1957
1 hr 25 min
The Scamp is a heartfelt drama from 1957 that stars Richard Attenborough as Stephen Leigh, a young boy who has been left alone to fend for himself in post-war London. The movie explores the challenges that he faces as he tries to survive on the streets without any family or guidance. At the beginning of the movie, Stephen is a mischievous urchin who steals food and money in order to survive. He is constantly getting into trouble with the local police and spends most of his time running from the law. However, despite his tough exterior, it is clear that Stephen is struggling with deep feelings of loneliness and abandonment.
One day, Stephen is caught stealing from a local store and is sent to a detention center. While he is there, he meets a kind woman named Mrs. Hammond (played by Dorothy Alison) who takes an interest in him and tries to help him turn his life around. With her guidance, Stephen begins to see that there is more to life than just surviving in the streets.
As Stephen starts to make progress, a new challenge presents itself when he is reunited with his estranged father (played by Colin Petersen). His father is a wealthy businessman who abandoned him as a child and is now trying to make amends. However, Stephen is conflicted about accepting his father's help, as he feels that his father abandoned him when he needed him most.
Throughout the movie, Stephen struggles to come to terms with his past and find a sense of belonging. He is torn between his life on the streets, which he knows and is familiar with, and the unfamiliar world of his father's wealth and privilege. Attenborough's performance as Stephen is touching and poignant, and audiences will be rooting for him to find healing and a sense of purpose.
The Scamp is a classic story about redemption and the importance of family. The movie is beautifully shot and captures the gritty reality of post-war London. The performances by the cast are outstanding, particularly Attenborough's portrayal of Stephen. Through his character, the movie shows that even in the darkest of circumstances, there is hope for a better future.
Overall, The Scamp is a timeless classic that will resonate with audiences of all ages. It is a powerful reminder of the resilience of the human spirit and the importance of love and compassion in our lives.